A quick intro to the Netherlands
If you want to study in such a country where there is a bit of everything starting from the best cities to studying, living, and availing the best working opportunities, then the Netherlands is a great choice for you!
The food, tulips farm and its history are just some of the reasons to visit the Netherlands. They are also known for being a small country that is widely famous for its social policies, technological communications, and presence of multicultural communities!
Aside from all of these, Netherlands will come with lots of employment opportunities after finishing your education as various international companies are headquartered there and English is also a widely spoken language here. Overall as a country, people are immensely friendly, curious, well-mannered, and cultured.
Why study in the Netherlands?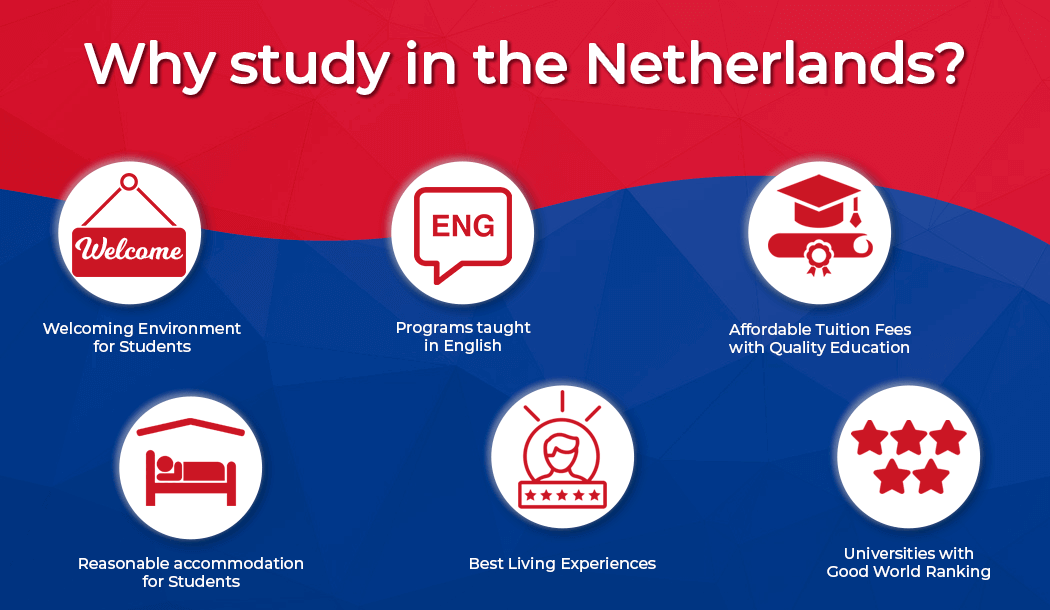 If you are looking to study in a country that offers English-language programmes, the country stands to have the best universities in the world and offers affordable tuition fees for international students! Based on a study, a total of 122,000 students from 162 countries are now studying science programmes in different universities in the Netherlands.
Welcoming Environment for Students
The most important fact that you should know about the Netherlands is that they are very open-minded and liberal. For example, if you go to Amsterdam, you will meet a lot of tourists and international students from diverse backgrounds. You will not only learn in an international environment but also be a part of a diverse culture, community, and live your student life to the fullest. The international students who study in the Netherlands come from 190 different countries. The Dutch are open-minded and quite direct, making it easy to make contact with Dutch people and exchange ideas. This makes international students feel welcome in the Netherlands.
Programmes taught in English
The Netherlands has the largest range of English language programmes in Europe. Almost every university has an English version of any programmes taught in Dutch. Lecturers are mostly bilingual and can interact with English-speaking students easily. There are lots of courses to choose from and communicating in class isn't a problem at all.
Universities with Good World Ranking
The 2022 QS World University rankings show that universities in the Netherlands are among the best in the world. Universities like Utrecht University, University of Amsterdam, Leiden University and the Delft University of Technology are among the most highly ranked universities in Europe and the world. These universities have some of the best teachers, well-funded and highly advanced research facilities. Universities in the Netherlands are therefore well-regarded and this makes them popular among foreign students.
Reasonable Accommodation for Students
While finding accommodation in the Netherlands (especially in the busy cities like Amsterdam and Rotterdam) can be quite a hassle, student housing in the Netherlands is very affordable. In Amsterdam for example, you will see some unique houses that are made out of containers. You can easily live in those houses with affordable rents. Corporations often rent out these accommodations and you can take rent from them for these accommodations.
Best Living Experience
Amsterdam is one of the most popular cities for students in the Netherlands. More than 100,000 students from various parts of the globe are based in an open-minded and multicultural city. Amsterdam is renowned for its many pleasant student associations, and you always have one. In the many trendy, fun and affordable restaurants and the coziest food & lifestyle spots, the distinctive, vibrant character of Amsterdam can be found. Haarlem and Amsterdam remain my favorites among all the beautiful cities in the Netherlands, and as a student studying in Amsterdam myself, I would recommend this inspiring and welcoming city to anyone planning to study in the Netherlands. It can bring its fair share of a cultural shock to studying in Amsterdam for some international students, but the city is a diverse one and you'll always feel at home in Amsterdam no matter where you come from.
Top Universities in the Netherlands
According to QS World University Rankings 2022, the top universities in the Netherlands are:
University of Amsterdam
Delft University of Technology
Utrecht University
Leiden University
Wageningen University & Research
Eindhoven University of Technology
University of Groningen
Erasmus University Rotterdam
University of Twente
Vrije Universiteit Amsterdam
Pathway to Studies in the Netherlands
Language Requirements
When applying, you will have to show that you have good command in English. This can be submitted via TOEFL or IELTS. Some institutions may accept Cambridge certificates as well. The required score for TOEFL is at least 550 (paper based) or 213 (internet based) and IELTS is at least 6.
Visa Requirements
If you are applying from EU/EEA countries, then, you will not need a student visa. It is applicable for students applying from these countries such as, Australia, Canada, Japan, Monaco, New Zealand, South Korea, the US, and the Vatican City. Students out of these countries will have to follow these steps when applying to study in the Netherlands:
If you plan to study for 90 days in the Netherlands, then, you have to apply for a short visa or a Schengen visa.
But if you want to study in the Netherlands for more than 90 days then the plan is a bit different! You will have to apply for an entry visa (MVV) and a residence permit (VVR). It is similar to a short visa but it is followed by a VVR application.
Interestingly, a student visa in the Netherlands is known as a residence permit (VRV).
You need a residence permit to study a bachelors or a masters program here. Non- EU residence permits have to have an entry residence permit (MVV).
If you are applying for a short or Schengen visa, you will have to pay a €174 visa processing fee. Then, you can make an appointment and collect the documents.
Usually for an international student, the university applies for a student visa. However, you have to provide them with additional information - offer letter from the university, proof of funds, proof of English or Dutch language proficiency, and maintenance of standard academic performance. These documents must be legalised and translated into English, Dutch, German or French.
Tuition Fees for International Students
Studying in the Netherlands is reasonable for international students.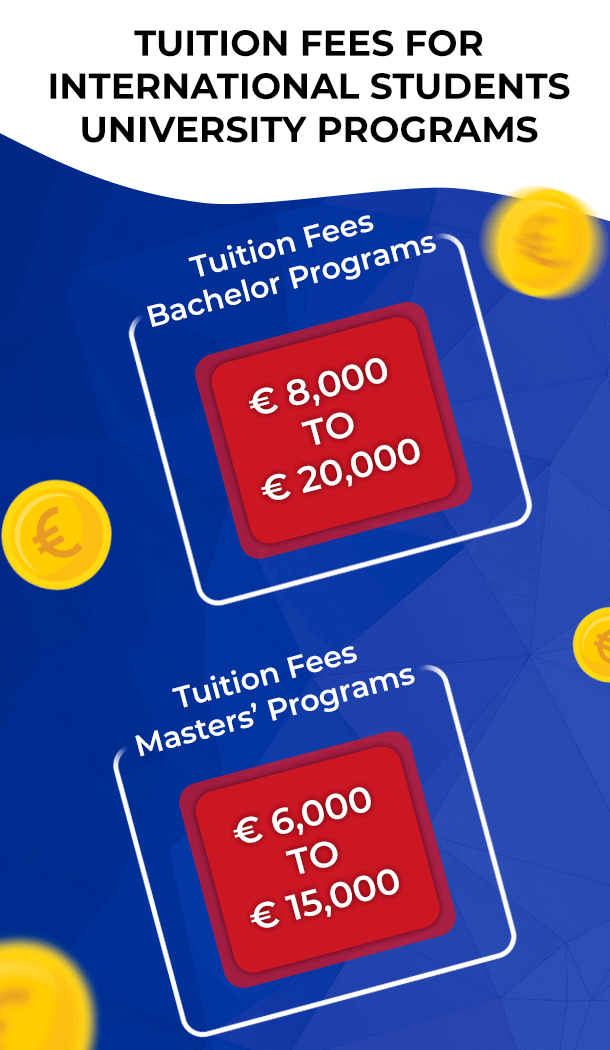 If you want to study in a country where you can have a perfect combination of enjoying the scenic beauty, academic experience, and student life, then, you definitely should choose this as your study destination!
Job Opportunities and Work Culture
In the Netherlands, highly qualified workers are in great demand, so much so that there is a fast-track immigration mechanism in order to get them in. Some expats workers are also entitled to tax advantages (the 30% tax ruling). This group includes engineers, technological experts, IT specialists, finance professionals, as well as individuals with experience working in sales, marketing and customer service. In the Netherlands, other on-demand jobs include practitioners and graduates working in the fields of health care, taxation, interim managers and education.
The Dutch work 36-40 hour/week, often spread over just four days. Most work occur during regular working hours (i.e. between 9am and 5pm), and employees are not usually expected to work overtime. The average monthly net salary in the Netherlands is just over € 2,300 a month.
Dutch culture is fairly egalitarian and this extends into the workforce. In fact, there is always a horizontal organizational structure for Dutch companies and they typically adopt step-by-step plans. You are free to live and work in the Netherlands without the need for a work or residency permit whether you are from the European Union (EU), European Economic Region (EEA-EU plus Iceland, Liechtenstein and Norway) or from Switzerland. However, you will need to register with the Dutch authorities.
While certain groups of individuals, such as students in the Netherlands and seasonal workers will require separate work and residence permits, most of the workers would qualify for a single work and residence permit in the Netherlands. Others, such as highly trained employees and EU Blue Card holders, require residence permits only. Knowing the language is always a plus factor but many businesses are conducted in English as well.
To find out whether your qualification in the Netherlands is recognised or your occupation is regulated, visit Nuffic (the organization for international co-operation in education).