Taylor's School of Hospitality, Tourism & Culinary Arts Beds Down a New Partnership
14 Dec 2015
Taylor's University School of Hospitality, Tourism and Culinary Arts (HCTA) has entered into a partnership with Hilding Anders. With their headquaters based in Sweden, they are a leading global manufacturer of beds in Europe, Russia and Asia - with brands such as Bico, Slumberland, Curem and Jensen. The company's vision is simple "We want to give the world a good night's sleep". To that end, Hilding Anders works in close partnerships with international hotel chains and cruise lines such as Marriott (including Courtyard by Marriott), Holiday Inn, Crown Plaza, Radisson Blu, Wyndham, Carnival Cruise Lines, Holland America Line and Royal Caribbean. They offer beds and mattresses with high standards in terms of ergonomics, microclimate and hygiene. In other words, beds and mattresses that let hotel guests enjoy a good night's sleep - whether they are staying in two-star hotels, exclusive boutique hotels or five–star resorts. Their Swiss test centre opened in late-2014, and this is where they analyse, test and certify their products. After all, the hotel bed plays a vital part in every travel experience. In the – usually – confined space of the hotel room, the bed is not only the place where the traveler sleeps. It is also where he or she may read, watch TV or even work. Taylor's School of Hospitality, Tourism and Culinary Arts Dean, Mr. Neethiahnanthan Ari Ragavan, said that this collaboration is part of the School's extensive effort to provide all its students with relevant industry exposure to leading practitioners before they step into the working world. "Through this collaboration, our students will be able to gain insight from Hilding Anders' specialists who will be conducting guest lectures here as well as getting valuable exposure to the industry by participating in study tours to the Hilding Anders' factory in Bangi," he said. "In addition, we are also contemplating a research and innovation project together with Hilding Anders capitalizing on our Teaching and Innovation hotel – Ruemz Hotel through this partnership in the new future" he further added. For the full story click here. To learn more about the School of Hospitality, Tourism and Culinary Arts click here.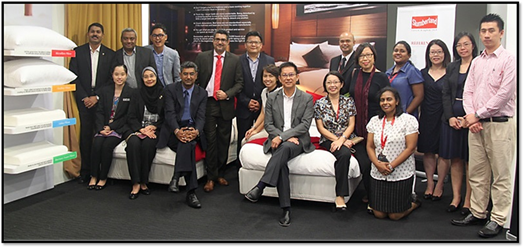 Representatives from Taylor's School of Hospitality, Tourism and Culinary Arts and Hilding Anders, pose
together after the launch of the three housekeeping suites adopted by Hilding Anders.