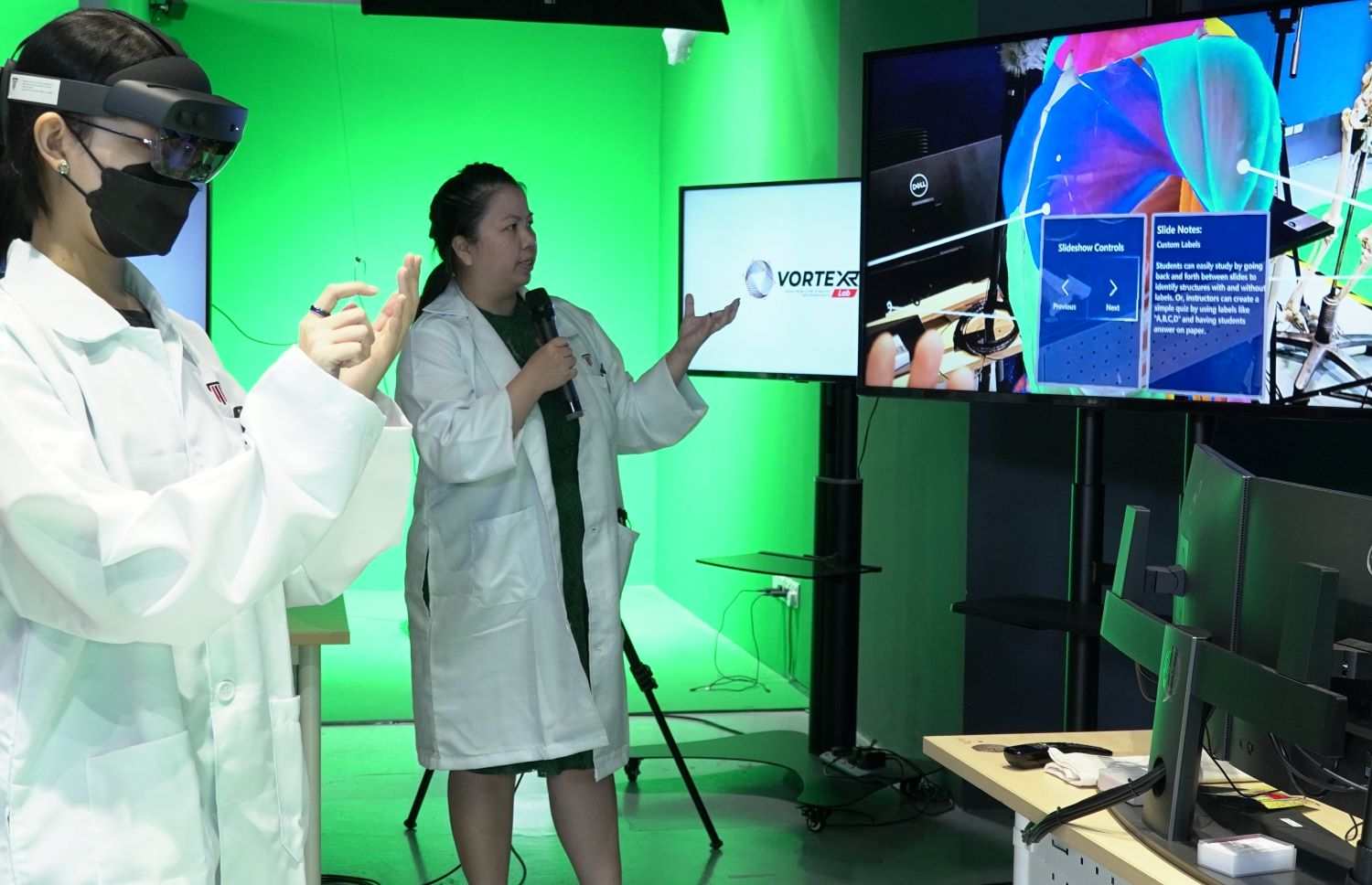 Associate Professor Dr Adeline Chia, Programme Director of the Biodemedical Science programme, explains how the hololens is used in medical education.
SUBANG JAYA, 9 AUGUST 2022 – Taylor's University launched its VORTEX XR Lab, equipped with augmented, virtual, and extended reality software and hardware, in its effort to drive a university-wide adoption of XR and immersive technologies in teaching, learning, and research.
Taylor's University Deputy Vice-Chancellor and Chief Academic Officer, Professor Dr Pradeep Nair, said the university has invested more than RM1 million in the lab to enable the creation of XR content and facilitate XR research, allowing students to engage and experience their learning in a 360⁰ immersive manner, and providing them the exposure needed to meet the demands of the XR job market.
VORTEX XR Lab, which features facilities such as a Green Screen Studio, XR applications and LED stage powered by Zero Density, Mixed Reality Immersive rooms, VR Head Mounted Displays powered by Meta Quest and HTC, and a HoloLens 2 station, will support all Faculties, from hospitality and architecture, to medicine and culinary arts.
"Students are no longer satisfied with just an information download from lecturers, and sitting in a class for hours. They want to see, feel, touch, and experience. We are witnessing a shift in learner expectations, where they expect learning to be flexible, on demand, personalised, engaging and immersive," said Professor Dr Pradeep.
"With VORTEX, all students across the university and college will be exposed to some form of immersive technology. This is part of our journey in transforming the curriculum and pedagogy to embed tech skills and modules into our degrees, in order to prepare our graduates to work in jobs of the future."
During the launch of the lab, the public was allowed to immerse in various experiences such as virtual welding and woodworking, kayaking in Antartica as a virtual tourist, attending a virtual moot court simulation, viewing augmented reality Barbie dolls donning fashion designed by Taylor's Fashion Design Technology students, and exploring the human anatomy through a hololens.
Professor Dr Pradeep added that the demand for XR technology and skills have grown exponentially around the world, as according to Market Research Future (MRFR), the XR market globally was valued at USD 27 Billion in 2018; it is expected to reach USD 393 Billion by 2025 with a compound annual growth rate (CAGR) of 69.4%.
Recently, the Malaysia Shopping Malls Association (PPK) have also indicated that retailers will be embracing interactive and immersive technologies, with a projection of 22.6% contribution to the gross domestic product by 2025 and creating potentially 500,000 future jobs.
"As a leading private higher education institution, we see the need to aggressively transform into an innovator in the education space to drive innovative XR research, ideas and solutions alongside the nation's growth in these areas," said Dr Charles Sharma Naidu, Director of VORTEX XR Lab and a Senior Lecturer at The Design School, Taylor's University.
He added that apart from creating immersive educational content, the lab will also function as an XR Incubation Centre, divided into three components – XR Services that provides technical support and training for academics; XR Action that facilitates XR projects and also seeks funding for XR products, as well as commercialisation; and XR Advocacy and Research that conducts research and awareness relating to XR technologies.
To support this vision, VORTEX XR Lab is collaborating with several industry partners, such as Ministry XR with regards to the usage of Immersive Techniques, and Broadcast Elements that was assigned with the turnkey integration, XR related product trainings and production.
The lab also uses the Zero Density's Reality ecosystem to create seamless 3D real-time rendering of virtual environments which incorporate AR and MR interactions for teaching, presentations, conferences, events, webinars, and research, among others.
"Taylor's is the first university in Malaysia to be part of the Zero Density Educational Partner Programme for training and certification, and holding the commercial license to produce XR videos that can be monetised," said Dr Charles Sharma Naidu.
Serkan Acar, Regional Manager at Zero Density said "Since the company's first introduction of Unreal Engine into the broadcasting industry, Zero Density has always provided cutting-edge tools for the global real-time production community. With an ever-growing global footprint in virtual production, there is an immense demand for Reality Engine professionals worldwide. Our partnership with Taylor's University will bring this technology to the students with our decades of experience and technical guidance.
"The resources and capabilities that the University offers to its students are unrivaled. Spearheading the Education Partner Programme in Southeast Asia with such a forward-thinking institution as Taylor's University truly excites us. We look forward to welcoming the next generation of talented visual designers, technicians, and technologists to this industry and the community."
The VORTEX XR Lab is an experimental space that is in line with the Taylor'sphere ecosystem, to future-proof graduates with the right skills and experience to tackle real-world problems.
In a first step towards playing its role in nation building, VORTEX XR Lab has signed an agreement with Tabung Ekonomi Gagasan Anak Sarawak (TEGAS) Digital Village, to raise awareness of and promote XR technologies in Sarawak.