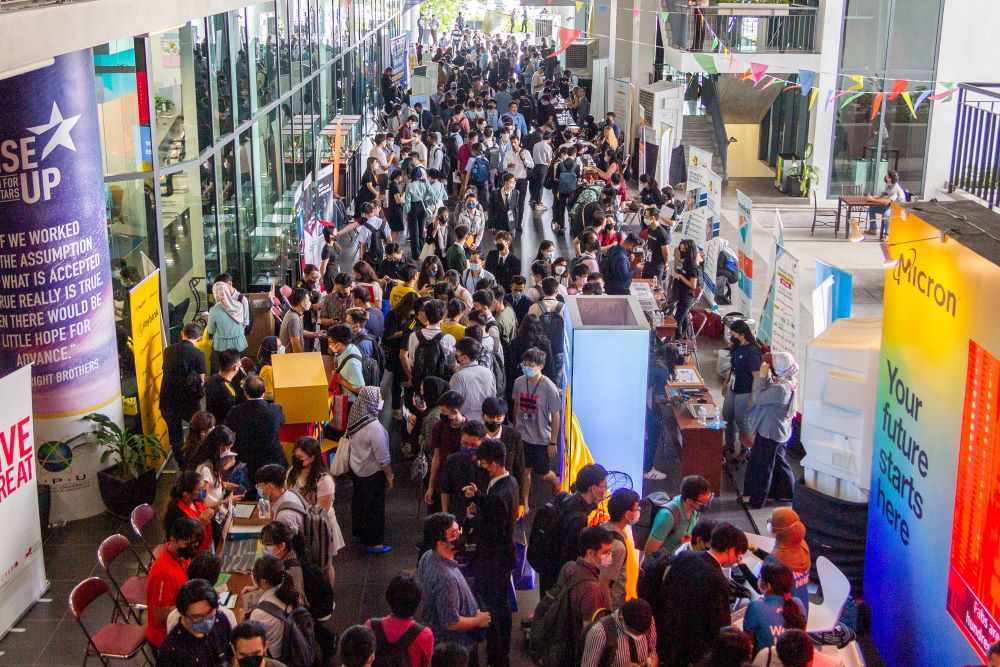 Exhibition booths by 120 employers that are made up of top-notch companies and brands in 14 different industries receive fervent attendance from the graduating students as well as walk-in visitors beyond APU.
A very strong turnout saw APU's Mega Career Fair making a glorious return after two years of interruption by the global pandemic. Thousands of visitors and job seekers thronged the 120 booths set up for a day at the Asia Pacific University of Technology & Innovation (APU) campus on 29th June 2022.
More than 400 recruiting personnel from top-notch companies and brands in 14 different industries, were awed by the enthusiastic participation of APU's graduating and existing students as well as walk-in visitors beyond APU.
Brands that were seen putting up their recruiting booths for this mega event included AirAsia, Maybank, Alliance Bank, Arvato Systems, Bank Islam, Bank Negara Malaysia, BDO, CIMB Bank, Coca-Cola, DHL, DKSH, Epson, Fusionex, Great Eastern, Habib Group, Hilti IT Services, Hong Leong Bank, Micron Memory, POS Malaysia, Public Bank, PwC, Schlumberger, Sun Life Malaysia, Tata Consultancy Services, Maxis, Deloitte, KPMG, Standard Chartered Bank and many more.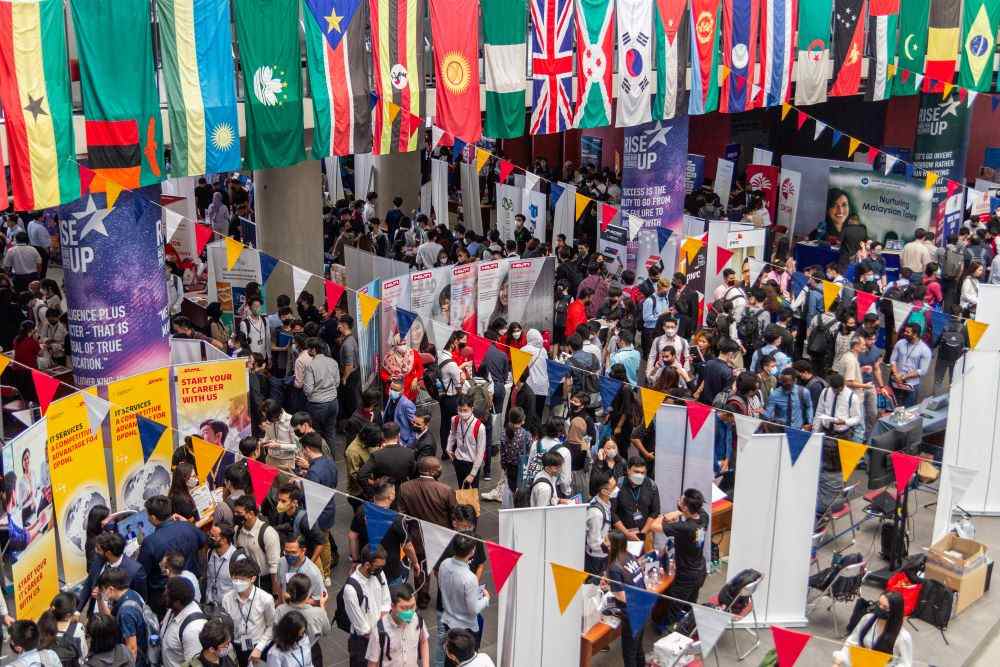 A throng of visitors and job seekers crowding at the booths set at the APU Mega Career Fair, the first physical Career Fair on campus after a two-year hiatus.
"I have been informed, that the registered number of vacancies offered includes 3498 full-time positions and about 3000 internships, which added up to more than 6400 job positions," enthused APU's CEO Datuk Parmjit Singh, addressing industry players at the talent partners engagement session, an opening for the career fair.
50% of the above companies were open to hiring international students, echoing the multicultural demographic at APU with an international student community of more than 13,000 students from more than 130 countries.
"APU is considered to be a Professional Development Institution in keeping with its vision of ensuring that our students emerge as professionals and not merely graduate with a degree. You can be reasonably rest assured that the graduates of APU would be professionally guided with highly competency-based courses," Parmjit told the brand leaders.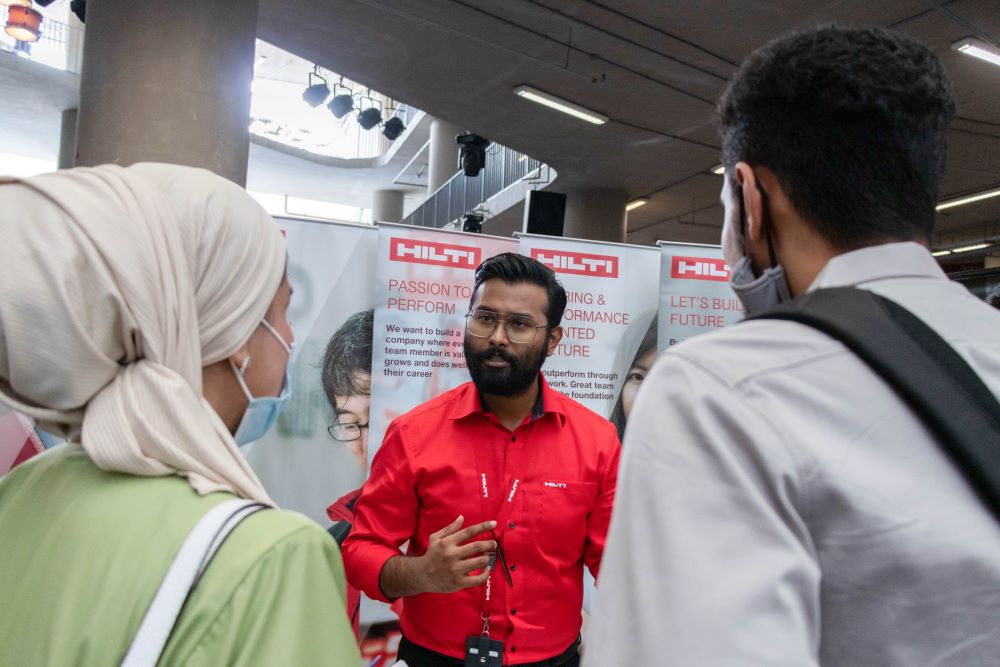 A representative from Hilti Corporation, a Liechtenstein multinational company and also APU's strategic partner, explains the job offered to the booth visitors.
Elaborating on the success factors of such a physical event since the pandemic, Prof. Dr. Ho Chin Kuan, APU's Vice-Chancellor opined, "We set out to ensure that both stakeholders – employers as well as students – fully enjoyed the best possible experience and hospitality on campus.
"There was continuous engagement with both employers and students leading up the event to ensure that they received timely updates and knew exactly what to expect and more importantly, how they would be able to maximise the impact from attending the event.
According to him, despite some students still in their hometowns and home countries, they were encouraged to send their CVs to the organiser to be made available to all employers. Close to a thousand CVs from students were received as a result of this initiative.
In conjunction with the mega career fair, APU also launched its "Exclusive Partner Engagement Programme" which is a unique model of collaboration where the university will assist employers in the key areas of Talent Acquisition, Upskilling and Retention.
"I think APU has done a better job compared to many others in preparing their students or young professionals to come into the workforce," stated Sanjay Sidhu, Executive Director, BDO Governance Advisory Sdn. Bhd.
Sanjay expressed his happiness for BDO, the 5th largest accounting firm in the world, to formalise its partnership with APU under the engagement programme. "Today, we are formalising our position as a partner of APU, and we are looking forward to that turning into recruitment."
BDO has hired APU graduates since six years ago and for this event, Sanjay was accompanied by his two co-workers who had earlier graduated from APU with a BA (Hons) in Accounting and Finance – specialising in Forensic Accounting degree, and the other with a BSc (Hons) in Computer Science degree.
"They are two of my higher performers, two pillars of students that I am involved with. What I see in them is an absolute combination of 'I can do' and 'I need to learn something new' spirit – a desire for constant self-improvement," Sanjay elaborated.
"Right now, we are looking to hire people for the forensic unit, IT, and cybersecurity. Apart from academic performance, what I am looking for from job seekers is the attitude, enthusiasm, and people who can appreciate the hurdles and come back to me with their alternate approaches, confidence and creativity,
"I am satisfied with the talent search today. I have seen many very promising resumes, and I have spoken to very promising people. I am happy," Sanjay winded up.
Syakirah Aisha, a human resources personnel from AceTeam Networks, an IT solutions provider, shared, "This is our first time joining the mega career fair with APU, we didn't expect the turnout would be so good. It is a very good experience. We are targeting to recruit four cloud engineers, two network security engineers, and we also have positions like product managers."
"I think today's response in the career fair is a clear testimony to what APU students stand for and what you can see from them, the drive! Today's response shows that APU students want to drive their success throughout their campus career and also follow up with their actual careers," said Vishnu Varthan, Hilti Asia IT Services.
It is worth mentioning that there were also jobs offered on the spot by employers like KPMG and Maybank, recruiting the most suitable candidates who meet the job requirement.
KPMG, a global network of professional firms providing audit, tax and advisory services, is offering jobs on the spot and actively recruiting potential employees at APU Mega Career Fair.
Generally, the positive feedback from employers bears testimony to the distinctive quality of APU's students that has been a key differentiator for Asia Pacific Institute of Information Technology (APIIT) and then APU in the industry for the past 30 years since APIIT was established. This also reaffirmed the Institution's consistently strong employability record over the years, including achieving 100% employability in the Tracer Study conducted by the Ministry of Higher Education.
The event had created golden opportunities for APU's graduating students to secure employment and internship, whereas the job recruiters had first-hand, direct access to a large pool of talented, professionally developed students.
"I have submitted my resume at the booths of Deloitte, Swift, Philip Capital, Schlumberger, and Finiro Capital Management because the jobs offered by these companies are relevant to my degree in International Business Management," said Kizuna Kuramoto, an international student from Japan.
"I am interested in and looking for a cybersecurity job because it is my major, and today is my first step toward finding the job I want the most, conveniently at the campus," said Snirnov Matrey from Khazastan.
The event even attracted undergraduates beyond APU, as Racheal Bingas, Siti Nabilah Mohd Noor and Norliana Akilah Mohammad Adam walked in from Universiti Kuala Lumpur (UniKL) and discovered that the event was a good opportunity for all graduates to come and look for a job. They shared that they would like to give it a try after seeing an advertisement on APU's Instagram.
Summarising the outcome of APU Career Fair 2022, Prof. Dr. Ho shared, "It was very heartwarming to see many of our amazing alumni coming back to campus representing their companies to recruit our current graduates and students. We are delighted with the enthusiastic response that we received from employers.
"Even more gratifying were the highly positive comments received from employers during and after the event regarding the quality of our students, the organisation of the event and the APU campus itself. We will plan to organise events such as this regularly in the future, just as we did before the pandemic," he concluded.
Discover more courses offered by APU here.