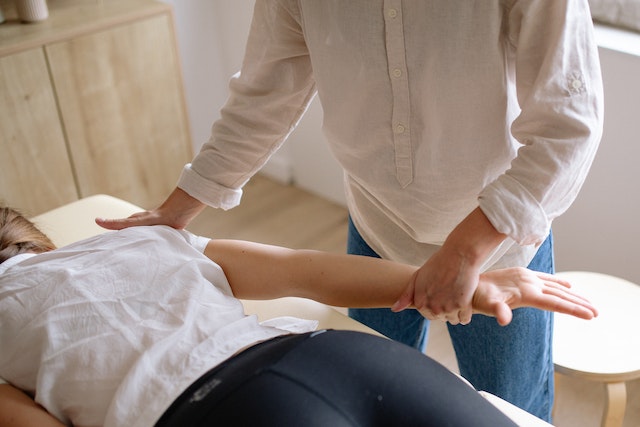 Image source: Pexels
Have your parents ever complained about their back and suddenly expressed their wish for you to become a doctor? Little did they know there are other medical occupations, such as physiotherapist that might be just as fulfilling! It is a promising career because physiotherapists are more likely to be referred to when one has a sickness or injury that affects their mobility. If you'd like to know more about physiotherapy, keep reading as we reveal some useful guides and tips that will help you get there!
What is Physiotherapy?
In simple words, physiotherapy helps you to walk again and perform everyday tasks as usual. What this implies is that physiotherapy aids in the restoration of movement and function when one is impacted not only by injury or illness such as back pain, stroke, heart attack and Parkinson's disease. In addition, this healthcare profession also improves one's physical activity while preventing subsequent injuries.
What are the major fields in Physiotherapy?
There are several major fields to choose from when studying Physiotherapy. Here are four areas that you can consider:
1. Musculoskeletal physiotherapy
Musculoskeletal physiotherapy is a subspecialty of physiotherapy that focuses on injuries and diseases affecting the muscles, joints, and soft tissues. This group includes conditions like backache, tennis elbow, and ankle sprains. Usually, these injuries require musculoskeletal physiotherapy and treatment sessions to promote healing and recovery.
2. Neurology physiotherapy
Neurology physiotherapy is concerned with the rehabilitation of individuals suffering from neurological diseases such as stroke and cerebral palsy. These conditions can impair their balance, coordination, senses, and overall mobility. Also known as neuro-physiotherapy, this area assists the patient in regaining some mobility and control of the affected body parts.
3. Cardiorespiratory
Cardiorespiratory physiotherapy is a branch of physiotherapy that focuses on the prevention and rehabilitation of lung and circulatory system problems. Bronchial asthma and chronic lung illnesses are examples of such conditions. Other than that, these disorders can include shortness of breath, chronic cough as well as decreased capacity to exercise.
4. Children's health
When it comes to children's health, physiotherapy helps the kids in reaching their full physical potential. Additionally, physiotherapists in this field monitor their patients' movement and growth. Some of the common illnesses among toddlers and children include developmental delays, cerebral palsy, cystic fibrosis, and scoliosis.
What subjects are taught in Physiotherapy?
Keep in mind that the subjects you learn will vary depending on the university, but here is a glimpse of what you will learn in a Bachelor of Science in Physiotherapy programme:
Common module - Physiology, Human Anatomy, Biomechanics, Kinesiology, Physiotherapeutic Skills, Electrotherapy, Musculoskeletal Physiotherapy, Neurological Physiotherapy, Sports Physiotherapy, Research Project, Clinical Placement, English for Health Professional
Electives - Critical Thinking, Introduction to Entrepreneurship, Community Service, Occupational Health, Medical Imaging
What are the skills and characteristics needed in Physiotherapy?
1. Motor skills
A good motor skill is required to be a competent physiotherapist since you will be assisting others in developing their motor abilities through numerous physical exercises and repeated actions. Therefore, mastering motor skills as simple as crawling, moving objects, or even painting will come in handy when assisting patients in rehabilitating their injuries.
2. Communication skills
It is not surprising that communication skills should be prioritised when dealing with someone recovering from injuries. Make sure you can articulate the necessary movements well enough so that your patients can visualise and recall the directions you gave them. Aside from that, you must also be able to communicate well in writing so that everything that is being spoken is conveyed on paper.
3. Interpersonal skills
As a physiotherapist, you will engage with other humans, each of whom will have their own set of emotions, which is why interpersonal skills are essential. Since healing is a lengthy process, you need to have high levels of patience and empathy when dealing with patients. It will be beneficial if you pay close attention to their issues as well because it will certainly help you both navigate through them properly.
4. Teamwork
A physiotherapist will most likely work alongside a team of dedicated medical personnel in hospitals or clinics. Even if you are the only physiotherapist in the building, you still have to communicate and collaborate with others to make the entire process easier. In any case, this could also be an excellent opportunity for networking and knowledge sharing.
Image source: Unsplash
Where can you pursue Physiotherapy in Malaysia?
Management and Science University (MSU)
Diploma
Bachelor's Degree
Master's Degree
Diploma
Bachelor's Degree
Master's Degree
Universiti Kuala Lumpur (UniKL)
Diploma
Bachelor's Degree
KPJ Healthcare University College
Diploma
Bachelor's Degree
Master's Degree
Universiti Kebangsaan Malaysia (UKM)
Bachelor's Degree
Master's Degree
PhD
International Islamic University Malaysia (IIUM)
Universiti Teknologi MARA (UITM)
How long is the period of studies for Physiotherapy?
Diploma
3 years
Most universities include clinical placement as early as Year 2 to ensure students gain more hands-on experience.
Bachelor's Degree
4 years
Clinical placement taking place in years three and up.
In certain universities, research projects will also be carried out in the final year.
Master's Degree
1 year for full-time students
2 years for part-time students
Students are also required to complete either a dissertation or a clinical project.
PhD
4 to 6 years depending on the programme design, the subject you choose and the institute you enrol in.
Students must complete a research project and submit a doctoral thesis to the satisfaction of the examiners
What are the entry requirements?
Diploma
Pass SPM or equivalent with at least 5 credits, including 3 credits in Bahasa Malaysia, English, Mathematics, 1 credit in any Science subject (Biology, Physics, Chemistry, General Science, or Applied Science), and 1 credit in any other subject; OR
Passed GCE/O Level or equivalent in Bahasa Malaysia or English and at least 5 Grade C in the following subjects - Biology, Physics, Chemistry, General Science, Applied Science, or Mathematics; OR
Have a certificate in Health Sciences with a minimum CGPA of 2.75.
Bachelor's Degree
Pass Matriculation/Pre-University/STPM or equivalent with a minimum 2.33 GPA in at least one of the following subjects: Biology, Physics/Mathematics, Chemistry; OR
Pass A-level programme with minimum Grade D in two of the following subjects: Biology, Physics/Mathematics, Chemistry; OR
If you have a diploma, a minimum CGPA of 2.75 in related fields is preferred; otherwise, a minimum of 3 years (36 months) of working experience is necessary; and
Must have at least a Band 3 for MUET or a Band 5.5 for IELTS, or a TOEFL score of 550.
Master's Degree
Must have a Bachelor's Degree in a related discipline with a minimum CGPA of 3.0 and 3 to 5 years of working experience if your CGPA is less than 3.0; and
Must have at least a Band 3 for MUET or a Band 5 for IELTS or a TOEFL score of 550.
PhD
Candidates must hold a Master's degree in a related field from any institution of higher learning, and they must also submit a research proposal to the faculty; and
Must have at least a Band 3 for MUET or a Band 6 for IELTS or a TOEFL score of 550.
How much are the estimated tuition fees?
The fees vary as public universities usually offer Physiotherapy programmes at a much cheaper cost in comparison to private universities. Additionally, the rates listed below do not cover living expenses and other additional fees.
Estimated tuition fees per semester:
Diploma - RM8,500 - RM10,800
Bachelor Degree - RM2,500 - RM5,000
Master Degree - RM2,800 - RM4,900
PhD - RM5,800 - RM6,600
What is the salary outlook for a fresh graduate in Physiotherapy?
According to Jobstreet, the average monthly salary for a Physiotherapist in Malaysia ranges between RM2,200 and RM2,800, which is supported by data from Indeed.com, which shows that the average base salary for a physiotherapist in Malaysia is RM2,229.
On the other hand, Payscale states that an entry-level Physiotherapist with less than one year of experience can make up to RM29,969 per year, while a Physiotherapist with five to nine years of experience can earn up to RM 31,987 per year. If that sounds promising, an experienced Physiotherapist with 10-19 years of experience receives an annual salary of RM47,000 on average.
To sum it all, physiotherapy is not just about the outcome but rather the process that goes into it. If you believe you have what it takes to be a physiotherapist, you should go for it because you will be changing many people's lives for the better. It may not be one of the most popular careers in the world, but this art of physical therapy is rewarding and will motivate you to be better over time.
Written by: Benedict
You might be interested in these guides too: