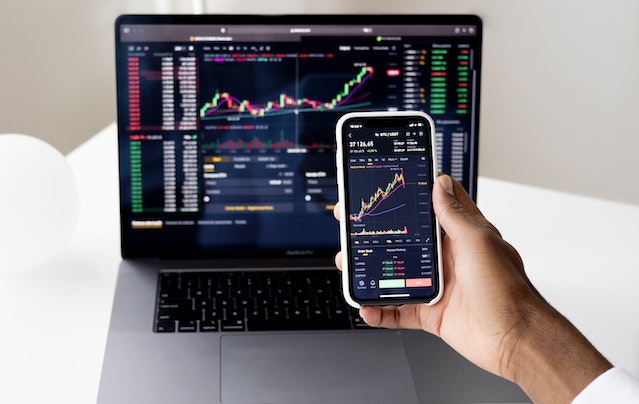 Image sourc: Pexels
This subject guide on financial technology will provide you with an overview of the various aspects of the industry.
What is Financial Technology?
Financial technology, also known as FinTech, is a term that describes the use of technology in the financial sector. It encompasses a wide range of activities and processes, including online banking, mobile payments, online lending, and investment management.
The goal of financial technology is to make it easier for people to access financial services and products.
In the past, people had to go to a bank or a financial institution in order to access banking and other financial services. Today, with the help of technology, people can conduct their financial transactions from the comfort of their homes. Financial technology has made it possible for people to conduct their banking activities through their smartphones, laptops, and other devices.
Also read: Accounting and Finance Courses in Malaysia
What are the major fields in Financial Technology?
There are many applications of financial technology; hence, many fields can be integrated while teaching financial technology. Here we list four major fields that are associated with it.
1. Artificial Intelligence
Artificial intelligence (AI) financial technology is an emerging field that applies the principles of AI to the financial services industry. AI-based financial technologies have the potential to revolutionise the way we manage our finances, with applications ranging from automated investment advice to fraud detection.
In recent years, AI is significantly integrated into the financial sector. Financial institutions are turning to AI-powered solutions to automate various tasks and processes. For example, banks are using chatbots powered by AI to provide customer service, while credit card companies are using AI to detect and prevent frauds.
2. Blockchain
Blockchain is a distributed database that allows for secure, transparent and tamper-proof transactions. This makes it ideal for financial applications, as it can help to reduce fraud and increase transparency.
There are many different ways that blockchain can be used in finance, from powering digital currencies like Bitcoin to streamlining the settlement of securities trades. Many companies and individuals do not intend to hold securities for the long-term. They want to invest to realise a short-term profit instead.
For such short term transactions, blockchain technology is more appropriate than other mechanisms. As the industry continues to grow, we can expect to see even more innovative uses for blockchain in fintech.
3. RegTech
The impact of regulatory technology, or "regtech," is being felt across the financial services sector. Regtech solutions are helping firms meet their compliance obligations in a more efficient and effective way, while also providing new insights into customer behaviour. The use of regtech is expected to grow in the financial services sector as firms look for ways to improve compliance while reducing costs. As the adoption of regtech solutions increases, we can expect to see more innovation in the way financial firms operate.
In the banking sector, regtech is being used to streamline the know-your-customer (KYC) process, reducing the amount of time and resources required to onboard new clients. Banks are also using regtech to automate the monitoring of transaction activity for suspicious activity, saving significant costs associated with manual reviews.
4. E-Payments
With the rise of fintech, online shopping has become more convenient and affordable than ever before. Fintech provides a variety of payment options that make it easy to shop online. For example, you can use your credit or debit card, PayPal, Apple Pay, or Google Wallet to make purchases. You can also use cryptocurrency to pay for goods and services online.
Fintech has made it possible for businesses to accept payments from all over the world. This is because fintech companies offer cross-border payment solutions that allow businesses to receive payments in their local currency. This is especially helpful for small businesses that may not have the resources to set up their own international payment processing infrastructure.
What subjects are taught in Financial Technology programmes?
Different universities have structured their financial technology programmes in different manners. However, the key themes and subjects remain the same. There's a mix of traditional finance courses along with modern courses that are integrated with the relevant new streams.

Some of the fundamental courses that are offered in financial technology programmes include:
Corporate Finance
Financial Institutions and Markets
International Finance
Investment and Portfolio Management
Research Methodology
Financial Statement Analysis
In addition, students get a chance to choose from a variety of electives that are related to integrated fields. These subjects include:
Big Data Analytics
Fundamentals of Artificial Intelligence
Blockchain Applications
Financial Econometrics
Innovation and Strategy in FinTech
Machine Learning and Finance
Financial Derivatives
What are the skills and characteristics needed for Financial Technology?
Financial technology is considered as a tough course because it requires a mix of hard and soft skills. There are a few key skills and characteristics that are required in order to excel in the field of Fintech.

1. Analytical and Problem-solving
You need to have strong analytical and problem-solving abilities. Why? Because a large part of fintech revolves around working with numbers and data. You need to be able to understand complex financial concepts and be able to find creative solutions to problems.
2. Communication Skills
People working in financial technology have excellent communication skills. This is important because in fintech, you will often work with clients and other professionals from different backgrounds. You need to be able to explain complex financial concepts in a clear and concise way.
3. Technology
You need to be tech-savvy in this industry. A lot of fintech involves working with various financial software programmes and platforms. So, it's important that you are comfortable using different types of technology.
4. Financial Acumen
You should have a good understanding of the financial markets. This is important because fintech often deals with innovative financial products and services. You need to be able to understand how the markets work in order to be able to develop new solutions that meet the needs of the market.
5. Calm and Composed Personality
You need to be able to work well under pressure. This is because fintech can be a fast-paced and challenging environment. There will be times when you need to make quick decisions and solve complex problems. So, it's important that you are able to stay calm and focused under pressure.
These are just some of the skills that are required in order to excel in the field of fintech. If you have these skills, then you will be well on your way to success.
What are the Financial Technology programmes offered in Malaysia?
Asia Pacific University of Technology & Innovation (APU)
BSc (Hons) in IT with a specialisation in FinTech
Bachelor in Banking and Finance with a specialisation in FinTech
BS (Hons) in Actuarial Science with a specialisation in FinTech
Master of Finance with a specialisation in FinTech
Universiti Tunku Abdul Rahman (UTAR)
Bachelor of Finance (Financial Technology) with Honours
Bachelors in Accounting (FinTech)
Bachelor of Financial Technology (Honours)
What is the salary outlook for Financial Technology jobs in Malaysia?
There are many jobs that can be lined up for someone with skills and knowledge linked to financial technology. Here's a short list of possible jobs, along with a rough estimate of average starting salaries mentioned by Salary Expert:
Financial Analyst (RM 5,000 – RM 15,000)
Financial Product and Service Managers (RM 6,500 – RM 10,000)
Cybersecurity Analyst (RM 6,000 – RM 12,000)
Data Scientists (RM 7,500 – RM 15,000)
Financial Advisors (RM 6,000 – RM 10,000)
Risk Manager (RM 7,000 – RM 15,000)
Compliance Manager (RM 5,000 – RM 12,000)
App Developer (RM 6,000 – RM 12,000)
How long is the duration of studies for a Financial Technology course in Malaysia?
Bachelor's Degree: 3 years
Master's Degree: 2 years
What are the entry requirements for Financial Technology in Malaysia?
Different universities have set their own entry requirements and this list provides you a general guideline:
Bachelor's Degree
STPM - Mathematics and science subjects, CGPA 2.00 for 2 subjects with min. Grade C for each subject
A-Levels - Min. EE or equivalent of min. 80 points
Australian Matriculation - ATAR 50
Foundation - Pass all subjects, Min. CGPA 2.00
UEC - Min. 5Bs including English
International Baccalaureate - Min. 24 points
Master's Degree
Bachelor's Degree - Min. CGPA 2.5-3.0
English - IELTS (min. 6.0 overall) or TOEFL (min 550)
PTE Academic - 50 overall
How much is the tuition fee to study a Financial Technology course in Malaysia?
The estimated tuition fee per year for financial technology courses can be seen here:
Bachelor's Degree: RM 40,000 - RM 78,000
Master's Degree: RM 29,500 - RM 36,800
By the end of this guide, you should have a good understanding of what financial technology is and which programmes are most relevant. If you have any questions, please feel free to contact us. We'll be happy to help!
Written by: Kaukab Azhar