Why not choose the Republic of Ireland as your new study destination? International students adapt very easy to the life in Ireland because of the friendliness and hospitality of the Irish people. After reading this guide, you should have a clear idea why you should consider studying in Ireland.
A Quick Intro to the Republic of Ireland
Why Study in Ireland?
Higher Education in Ireland
Top Universities & Colleges in Ireland
Pathway to studying in Ireland
After study opportunities in Ireland
Applying to Study in Ireland
Language requirements
Visa requirements
Tuition Fees
List of Universities & Colleges in Ireland by Subject
A Quick Intro to the Republic of Ireland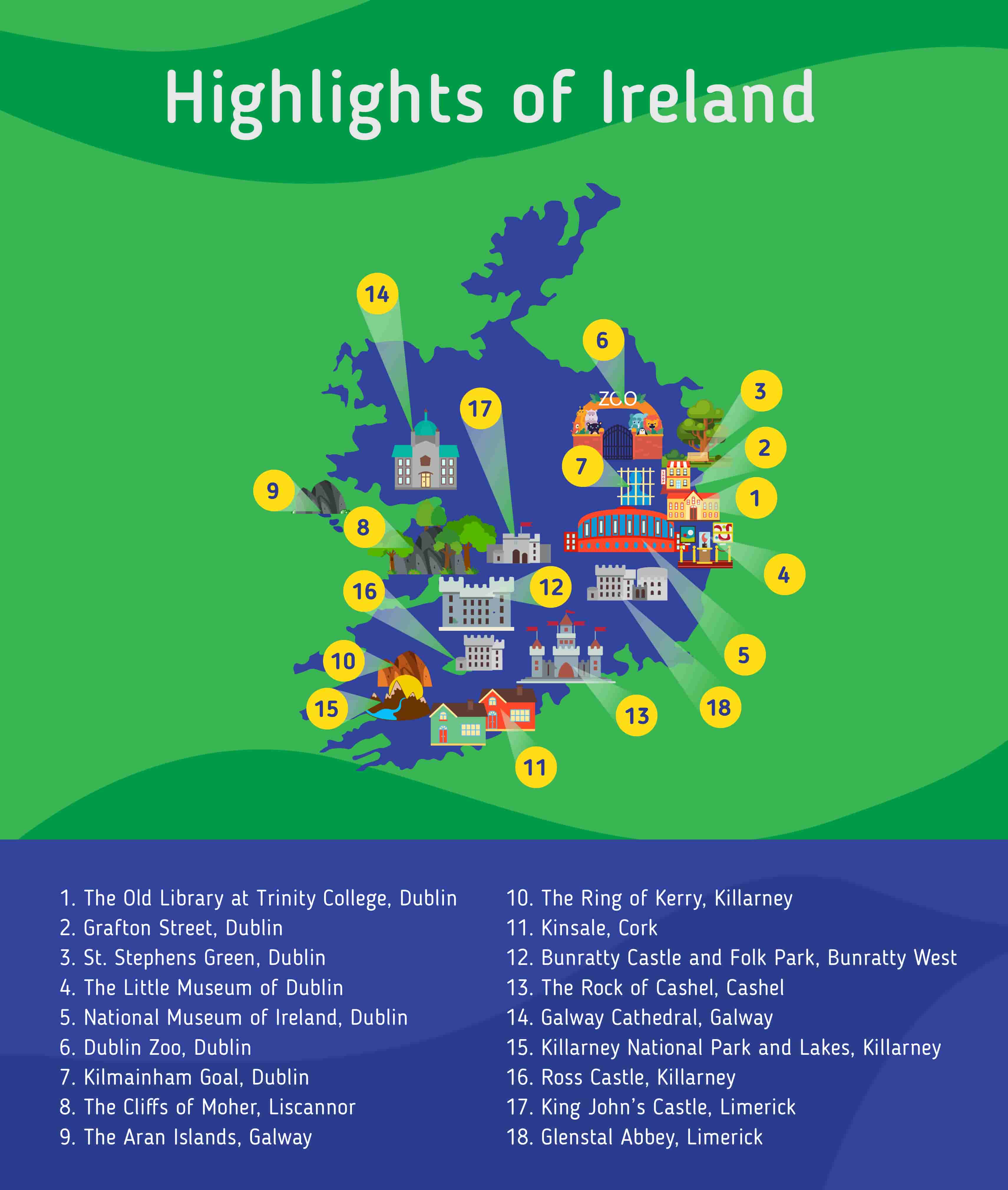 The Republic of Ireland (we will refer to it as Ireland) probably makes you think of is stunningly and calm nature, the shamrock, the harp and Guinness beer, but there is more to the country. Due to generous government funding, Irish universities are among the top 1% of research institutions worldwide in nineteen fields. For you, as a student, this means that you can take the opportunity to join research programmes that are driving innovation and changing lives worldwide.
The number of international students visiting Ireland is increasing each year, students from all over the world are taking advantage of the higher education standard in Ireland coupled with the unique cultural experience.
Why Study in Ireland?
Studying in Ireland presents a lot of excellent opportunities for any potential and current students. Being able to join a vast network of almost 35,000 international students from 161 countries is a good reason why you should come to the country. Students are given priority as they are provided with the best educational system, due to the various investments to improve schools and facilities. Students are also given the freedom to choose from over 5,00 internationally-recognised qualifications in world-class institutions. Furthermore, students can achieve their ambitions in Europe's most entrepreneurial country. Ireland is buzzing with entrepreneurial creativity and dynamism, 32,000 people started new businesses in 2013. For a country with 4.5 million inhabitants, that's a lot of drive! Plus, who wouldn't want to be in one of the friendliest and safest countries in the world? Irish people are just amazing, they are known for their humour, passion and friendliness.
Higher Education in Ireland
Eight universities represent Ireland in the QS world rankings. Trinity College Dublin ranks the highest at number 88, indicating that it can compete among the world's best. University College Dublin (ranked at number 168), Dublin City University (391), Royal College of Surgeons Ireland (201-250) and Dublin Institute of Technology (651-700) are also situated in the largest city and capital of the country, Dublin.
National University of Ireland Galway (243), University College Cork (283), University of Limerick (501-550) and Maynooth University (701-750) are located in other parts of the country.
Top Universities & Colleges in Ireland
In total, Ireland houses nine universities. Additionally, there are nine private, independent and not-for-profit colleges located in Ireland. Moreover, Ireland is home to fourteen different Institutes of Technology and four National Institutions and Colleges of Education.
The National University of Ireland (NUI) is the umbrella university and covers University College Dublin (UCD), National University of Ireland, Galway, University College Cork, and National University of Ireland, Maynooth.
The Irish University Association (IUA), is the representative body for seven of the nine universities. The aim of IUA is to maximise the universities' contribution to Ireland's social, cultural and economic well-being.
Eight Irish Universities made it into QS' World University Rankings for 2021. See the list below: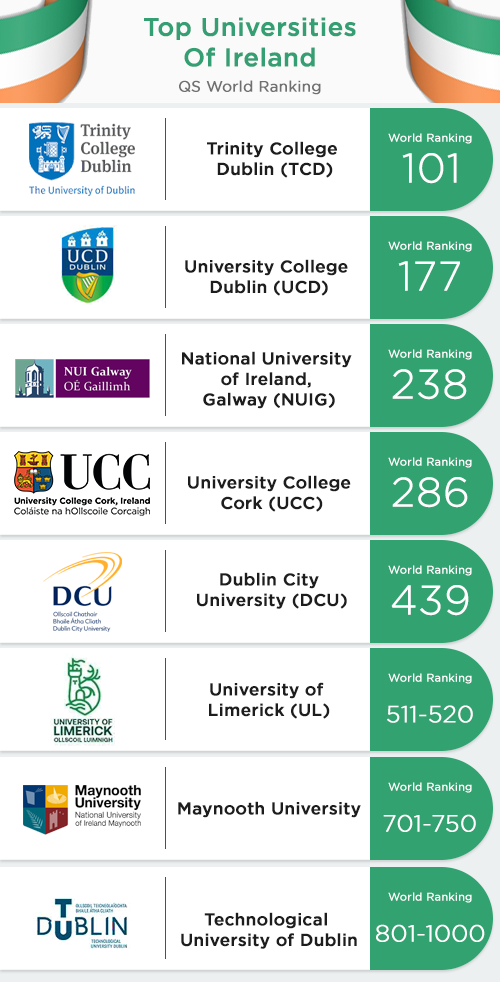 Pathway to studying in Ireland
The length of your study depends on the path you wish to take. Here's a basic duration of study in Ireland.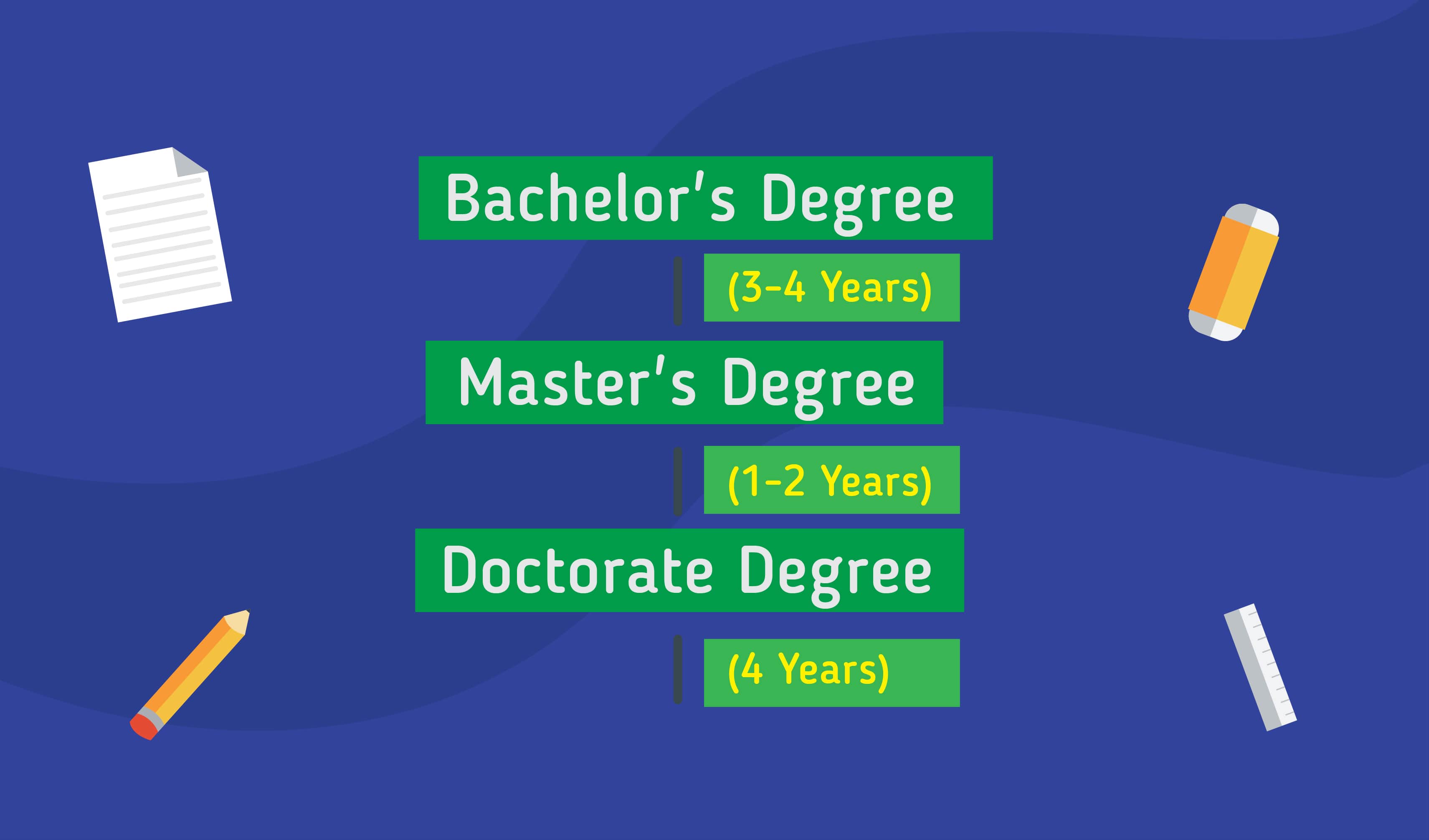 After study opportunities in Ireland
Do you want to stay in Ireland after your graduation because you fell in love with the country? That's possible. The Third Level Graduate Scheme allows you to stay an additional 6 to 24 months (depending on your qualifications) after graduation to secure employment.
But there are more options for you, in total there are nine different types of employment permits. Don't forget to always check the latest rules and updates of the Irish government.
Applying to Study in Ireland
Language requirements
When applying for an Irish university, you must show proof of your proficiency in English. This can generally be done through one of the following options:
- Test of English as a Foreign Language (TOEFL)
- Cambridge English Language Assessments (CELA)
- Pearson Test of English (PTE) Academic
- English Test for Academic and Professional Purposes (ETAPP)
Different institutions may require different scores.
Visa requirements
You can start the visa process after you applied at an Irish university and you are accepted.
The Irish government requires visitors from certain countries to apply for an entry visa. Students from the countries mentioned in Schedule 1 (including Malaysia) don't need to apply for an entry visa.
Furthermore, a student visa is required. American and Canadian students do not need a student visa to study in Ireland. However, all students from outside the EU and North-America who are staying in Ireland for more than 90 days must register with the local Garda National Immigration Bureau within seven days of arrival in Ireland.
To obtain a student visa, you must:
Check the Irish Embassy details where your documentation is to be sent
Provide a passport sized photo
Ensure your passport is valid for 12 months
Pay the application fee
Provide a signed letter of application which explains why you require the visa
Obtain a Letter of Acceptance from the Irish university, college or school, confirming you have been accepted and enrolled on a course of full-time education, involving a minimum of fifteen hours organised daytime tuition each week
Provide evidence that you have enough funds (€7,000) to maintain yourself for the initial part of your stay
Provide evidence that you or a sponsor have access to at least €7,000 for each subsequent year of your studies, in addition to the course fees for each of those years.
Provide evidence that you have private medical insurance
Tuition Fees
You must take into account that tuition fees vary between chosen field of study, university and programme. Furthermore, there is a big difference in the tuition fees for European and non-European students. The table below depicts the tuition costs for non-EU students.
| | | |
| --- | --- | --- |
| Study Level | Tuition Fee in EUR (per year) | Tuition Fee in USD (per year) |
| Bachelor's degree | 9,000 - 45,000 | 10,600 - 53,000 |
| Master's degree | 9,150 - 37,000 | 10,800 - 43,000 |
| Doctor's degree | 9,150 - 37,000 | 10,800 - 43,000 |
| | | |
| --- | --- | --- |
| | Undergraduate in EUR (per year) | Postgraduate in EUR (per year) |
| Medicine & Health Sciences | 45,000 - 52,000 | 4,000 - 31,000 |
| Engineering | 9,750 - 23,000 | 9,750 - 24,000 |
| Science & Technology | 9,750 - 22,000 | 9,750 - 45,000 |
| Arts & Humanities | 9,750 - 20,000 | 9,750 - 22,000 |
| Business | 9,750 - 18,000 | 9,750 - 34,500 |

List of Universities & Colleges in Ireland by Subject
Have you made your decision and do you want to study in Ireland? Here you can see an overview of the ten most popular courses to study in Ireland:






Find out more about studying in Ireland, below: