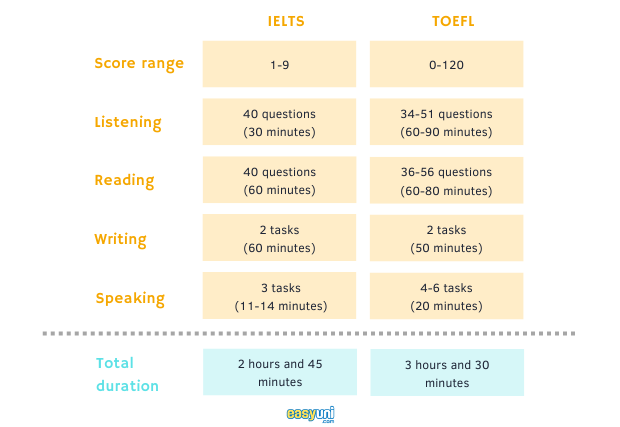 To get into universities around the world, you will find that the most common requirement is English language proficiency. Without proof that you are able to communicate in English in English-speaking countries, chances of you enrolling into the universities are slim.
If you're a Malaysian student planning to study locally, you can check out MUET instead.
International English Language Testing System (IELTS) and the Test of English Language as a Foreign Language (TOEFL) are two of the most famous exams for English proficiency. While the structure for both exams are similar - reading, listening, speaking and writing - there are clear differences between them as well.
To begin, you should first identify whether the country or university accepts the particular exam; which one is more accessible from your home country; which one is easier to score; and which one is cheaper.
This guide covers detailed information about IELTS and TOEFL. So, keep reading!
Which exam is globally accepted?
Both exams are quite similar in terms of global acceptance and recognition.
Most institutions worldwide accept IELTS scores, and it is the most popular English language proficiency course in the UK and Australia, although TOEFL is also largely accepted.
You will find that TOEFL is accepted in more than 9,000 institutions globally. It is also one of the most common exams accepted in the US, Canada, New Zealand, Australia, the UK, and Europe.
Breakdown of IELTS exam format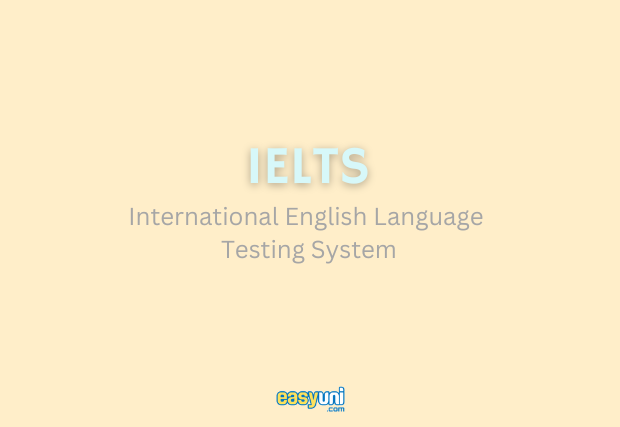 In IELTS, you will receive a score from 1 (non-user) to 9 (expert) for every section. The average of all 4 scores will be your overall score. Below you will find details of each section to help you better understand the IELTS exam format:
Listening
You are required to listen to 4 recordings in different scenarios or situations, such as social, educational, and lecture-like situations. You must answer 10 questions for each recording, which includes multiple choice, short answer, labeling, sentence completion, and matching. You have 30 minutes to complete 40 questions.
Reading
You have to answer 10 to 15 questions for every passage (3 in total) in 60 minutes. These passages can be excerpts from journals, books, newspapers and even magazines. They will also be in different styles of passages, such as narrative, argumentative, or descriptive.
Writing
You must complete 2 writing tasks within 60 minutes. The first task requires you to describe a diagram, graph, chart, or any visual information with at least 150 words. It is best to complete this section in 20 minutes.
For the second task, you must elaborate on a given topic with at least 250 words. This section will show how well you understand a question and your writing abilities. It is best to spend 40 minutes on this task.
Speaking
The speaking test is conducted as an oral interview (11 - 14 minutes) that is divided into 3 parts:
Part 1 - The interviewer will ask common questions about your interests, family, and life.
Part 2 - You will be given a topic and a minute to prepare for your discussion. You will then present your ideas in 2 minutes.
Part 3 - A continuation of part 2, the interviewer will ask you a few questions and you will need to further elaborate your points for another 4 to 5 minutes.
Breakdown of TOEFL exam format
Similar to IELTS, the Test of English as a Foreign Language (TOEFL) is divided into 4 sections. You are given 3.5 hours to complete them. Each section has a score of 0-30, hence, the overall total is 0-120.
Listening
You are required to listen to recordings of conversations, discussions, classroom and lectures, to name a few. All questions are multiple choice-based. You must complete the entire test within 41 to 57 minutes.
Reading
There are 3 types of questions in this section: multiple choice, inserting the right sentence or phrase in a text, and sorting out information from a table, chart, and other types of diagrams. The passages provided are university-level academic texts, and you are given 60 to 80 minutes to complete this section.
Writing
There are two tasks in the writing test.
a) Integrated Writing - You must read a passage and/or listen to a particular recording, and then summarise them based on your understanding. It is recommended to write at least 150-225 words in 20 minutes.
b) Independent Writing - You must elaborate your opinion on a given topic. Your essay (min 300 words) should consist of clear elaboration and examples. It is best to spend 30 minutes on this task.
Speaking
The Reading and Listening sections are related to the Speaking test in TOEFL. You must pay close attention to what you've read and understood in both sections to perform well in this test.
You are required to share your opinions about what you've read and heard in reading and listening tests. You must complete all 4 - 6 tasks in 20 minutes. All tasks will focus on your reading, listening and speaking skills.
Which test is easier?
It is important to score high grades for your English proficiency test. In general, we find that IELTS have a higher advantage in terms of duration and difficulty.
IELTS is quite straight-forward, while some sections in TOEFL have more questions that might cause you to lose points if you're not confident with certain tasks.
IELTS also takes a shorter time to complete compared to TOEFL, but TOEFL has more multiple choice questions compared to IELTS.
The essay you need to write for IELTS is also shorter (250 words) compared to TOEFL (300 words).
However, the difficulty level depends on your skill level as well. It is best to first identify your strengths and weaknesses, and then choose the test that allows you to use your strengths more.
Which test is more accessible?
Both exams now offer online options as well. You can contact the TOEFL and IELTS centres in your country to learn more.
How much do they cost?
The cost varies in different countries, but both cost about the same price range, from RM 700 to RM 850, or USD 200 to USD 250.
Key differences between IELTS and TOEFL
1. Question format
For Reading and Listening tests, IELTS require more written answers compared to TOEFL's multiple choice questions. Hence, you should be prepared to write more in both of those sections in IELTS. You should choose TOEFL if you are more comfortable with multiple choice questions.
2. Availability
Although both exams offer computer and paper-based tests, TOEFL exams mostly require you to submit your official answers on the computer. On the other hand, IELTS offer both computer and paper-based tests at the centres. Those who can type fast can opt for the computer test.
3. Type of texts in Reading section
Besides academic texts, IELTS also extracts texts from newspapers and magazines as the passages in the exam. However, TOEFL mainly uses academic texts derived from university-level sources, meaning the words and sentence structure may be more challenging.
4. Speaking with an actual person vs recording the oral interview
The IELTS Speaking test requires you to have a conversation with an interviewer who is present at the test location. TOEFL, on the other hand, requires you to record your answers on the computer. So, if you are confident with your communication skills, IELTS will be the better choice.
Also read:
What's the Difference Between Honours and Bachelor's Degree?