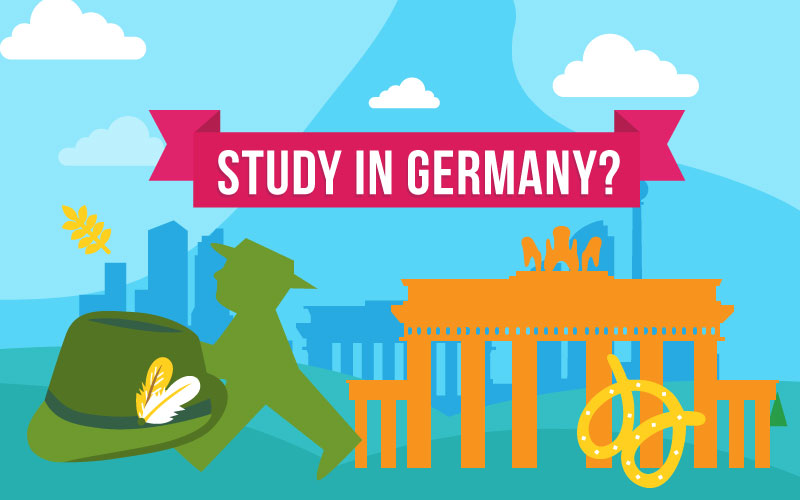 A Quick Intro to Germany
Why Study in Germany?
Universities and Colleges in Germany
Higher Education Institutions in Germany
Pathway to Studying in Germany
Top Institutions in Germany
After Study Opportunities in Germany
Applying to Study in Germany
Language Requirements
Visa Requirements
Tuition Fees
Top Courses in Germany
Frequently Asked Questions
A Quick Intro to Germany

Germany is well known as a land of unique landscapes and exciting cities rich in culture and history. Located right in the heart of Europe, Germany has become one of the popular study destinations in the world. Based on EU Countries Ranking 2018, Germany landed first place in the top study destination for international students.
The degrees from the universities and colleges in Germany are also highly respected by employers worldwide making it appealing for student to choose this country as a study destination.
Why Study in Germany?
Studying in Germany is free!
Yes, you read that right. And the best part, this applies to both local and international too! Tuition fees will be one less thing you will have to worry about.
Universities in Germany have a good network with well-known universities and colleges from around the globe. Thousands of students get the opportunity to go abroad and spend some time in a different country because of this.
Also, studying here will be like killing two birds with one stone. Get the benefit of earning a high-quality education as well as the chance to learn a new language, experience and culture too! If that itself isn't exciting, then we don't know what is.
Worried about what to do during the holidays while being so far away from home? Worry not! Travel around the country and if all is on your side, to the rest of the Europe, too!
Explore the rich culture and history all while you are finishing your studies abroad. With this, you will regularly find yourself with something to do.
Also read: Study in Germany: World's Most Affordable Education
Universities and Colleges in Germany
In Germany, one study year contains two terms called semester, consisted of the summer and the winter terms. There are a lecture period and a lecture-free period which takes place at the end of each term.
It is during the lecture-free period that you will be able to take up an internship, work or even simply travel around and enjoy your holidays.
If you are an international student, who wants to study in Germany, studying there will never a problem for as most of their courses and degree programmes are being offered in English.
Furthermore, international students can choose any course of their liking since the universities and colleges offer a broad range of disciplines including science, arts, music and even technical courses.
Further, there are a lot of options on where to study in Germany. You can choose to go to urban cities such as Berlin – the home of Freie Universität Berlin, München (Munich) where Technische Universität München and Ludwig-Maximilians-Universität München are, or to smaller cities such as Heidelberg, where Ruprecht-Karls-Universität Heidelberg is located or in Karlsruhe if you want to go to Karlsruher Institut Für Technologie (KIT).
A. Higher Education Institutions in Germany
Aside from attracting the world's foodies, Germany is a sweet honey pot for international students as its university degrees are highly respected by employers worldwide.
There are about 450 state-accredited universities with some 17,500-degree programmes in Germany. Its universities offer degree programmes in every possible subject and academic level – bachelor's, master's, or doctoral degrees.
All undergraduate programmes are entirely cost-free – only a few postgraduate programmes may require you to pay a fee. Apart from tuition fee, students are simply needed to pay a minimal amount of fee for administration purposes, their university's student union and the general books required for modules studied.
Universities
Universities of Applied Sciences
Colleges of Art, Film & Music

Offers strong theoretical and academically oriented degree programmes

Have a broad range of disciplines

Some have specialised in certain subject areas such as technical universities, medical schools and colleges of educational

Strongly practice-oriented

Prepare students for real-world requirements of professional life Offers instruction in artistic subjects, such as Fashion Design, Fine Arts, Acting, Dance, among others

Students enrolled will have the chance of becoming behind the scenes and on-screen professionals.
B. Pathway to Studying in Germany
The length of your study depends on the path you wish to take. Here's a basic duration of study in Germany:

C. Top Institutions in Germany
To date, the country has more than 350,000 international students enrolled in its universities. To name a few, Top German universities include LMU Munich, Heidelberg University and Free University of Berlin.
Listed below are the Top 10 Universities in Germany for the year 2021 based on QS World Ranking 2021:
| | | |
| --- | --- | --- |
| SN | Universities in Germany | QS World Ranking |
| 1 | Technische Universität München | 50 |
| 2 | Ludwig-Maximilians-Universität München | 63 |
| 3 | Ruprecht-Karls-Universität Heidelberg | 64 |
| 4 | Humboldt-Universität zu Berlin | 117 |
| 5 | Freie Universität Berlin | 130 |
| 6 | KIT, Karlsruher Institut für Technologie | 131 |
| 7 | Rheinisch-Westfälische Technische Hochschule Aachen | 145 |
| 8 | Technische Universität Berlin | 148 |
| 9 | Technische Universität Dresden | 173 |
| 10 | Eberhard Karls Universität Tübingen | 175 |
| 10 | Universität Freiburg | 175 |
D. After Study Opportunities in Germany
Germany is also an attractive country for you to make a living once you have completed your studies. Interesting opportunities await you as a graduate of a university in Germany. You will be able to choose from different kinds of disciplines and companies.
It isn't easy however for an international student to get a job in Germany. Like all other places, Germans are more likely to employ those who speak the German language perfectly.
Calm down, it may sound scary, but it is not as bad as it sounds. A secret tip: Find a way to make your native language be an advantage to you.
You may check this site out for more information regarding job opportunities in Germany.
Applying to Study in Germany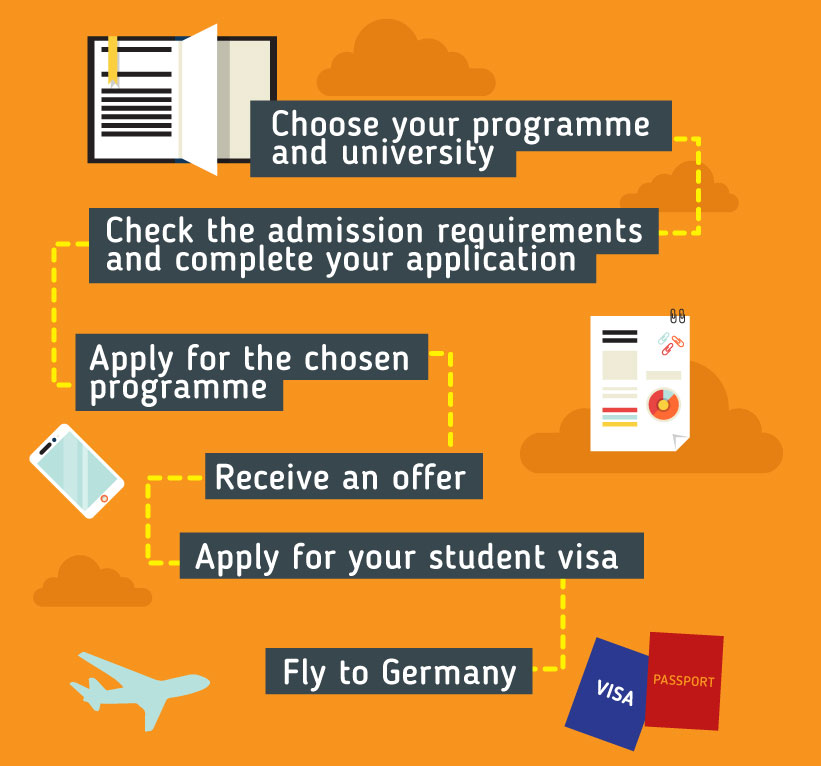 A. Language Requirements
Most German universities offer their programmes in the German language (learn it here!). However, there are a lot of international programmes offered in the English language as well, but it is a combination of either German or other languages.
The acceptable forms of proof of German language proficiency are:
Test of German as a Foreign Language (TestDaF)
Goethe-Institut German Language Diploma (GDS)
German Language Diploma of the Standing Conference of the Ministers of Education and Cultural Affairs, Level II (DSD)
And below is the English Language requirement forms to study in Germany:
TOEFL (Test of English as a Foreign Language): 550 [paper based test], 213 [computer based test], 79-80 [internet based test].
IELTS (The International English Language Testing System): Score of 5 – 6.5 is accepted.
B. Visa Requirements
Upon acceptance from your German university, the process whereby you will obtain a student visa mostly depends on your country of residence. If you are required to get a visa and residence permit for Germany before arrival, this procedure is usually done through the embassy, where you would be needed to provide (depending on the embassy):
Proof of registration at Residents' Registration Office
Health coverage
Proof of financial resources for throughout your period of study
Proof of accommodation confirmation in Germany
Proof of non-existent criminal record
You must ensure that the visa you have obtained is a National visa instead of a Schengen Visa, to allow you to stay in the country for more than three months.
Did you know? To study in Germany, it is not necessary for citizens from the EU or from the countries Island to have a visa. However, citizens from other countries will need a visa if they are planning to stay in the country for more than 90 days.
There are also additional rules for the visa application. Citizens from certain countries like Australia, Japan, New Zealand, South Korea, Canada and the USA can apply for their visa even after arriving in Germany. It is not necessary for them to have a visa before entering Germany.
Citizens from other countries, however, need to apply for the visa before going to Germany. For more detailed information and lists of the particular countries can also be found either on the web page of Schengen Visa Info or by going to the consulate or the German embassy in one's home country.
Tuition Fees
The popular question when one wants to study abroad "what does this cost?"
Students would mainly think about the tuition fees when it comes to financial planning for a study abroad plan. In Germany however, there are no tuition fees charged for undergraduate and PhD (to both local and international) students. Most German universities are financed by the state and government.
Students of Master degrees, on the other hand, will still have to pay tuition fees.
For a Master's programme, annual tuition fees for an international student would usually cost between €20,000 (USD 11,450) – €30,000 (USD 34,300) depending on the programme and the university you are in.
Top Courses in Germany
Ready to Study in Germany? Check out the top courses and where to study below.
Here is a list of the universities of the top courses in Germany:



Frequently Asked Questions
Can you work in Germany with a student visa?
Yes, but only up to 120 full days OR 240 half days each year. However, if you are a student from EU countries, you are permitted to work up to 20 hours per week.
Intrigued? Find out more about studying in Germany here: