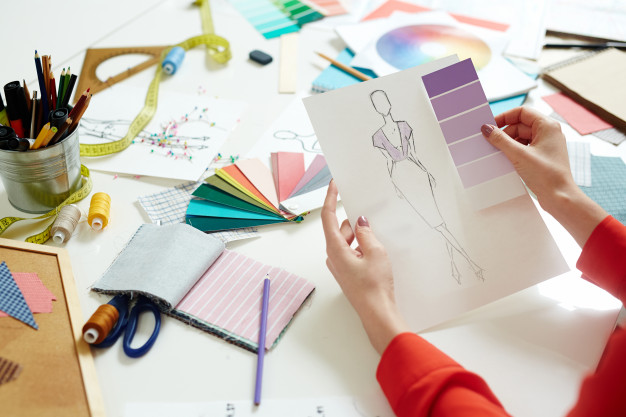 Fashion design is the art of applying design, aesthetics and natural beauty to clothing and its accessories.
Modern fashion design can be divided into two basic categories: haute couture and ready-to-wear where the former is dedicated to certain customers and is custom sized to fit these customers exactly whereas the latter is standard sized and not custom made, and is often produced in large production runs.
Fashion Design - What will you study?
There are many knowledge in fashion design on how to design fashion pieces which are both trendy and functional.
In most fashion design programs, students will learn about textiles and fabrics and how to use computer-aided design (CAD) technology to transform their ideas into reality. Other than that, fashion designers will also have to constantly study the industry to stay informed of current trends and to be able to forecast future styles.
In common fashion design courses, some common concepts like creative design, pattern drafting, fashion illustration, fashion and art, and fitting will be taught to students. Besides these common concepts, students will also study technical skills like tailoring and sewing to produce and deliver their product.
A fashion design student will also have to keep a good portfolio and the initial experience in the fashion industry can be obtained through internships or by working as an assistant designer.
Internships provide aspiring fashion designer with an opportunity to experience the real fashion industry and add some advantages to their portfolio.
What are the popular fields in Fashion Design?
There are several types of Fashion Design like apparel design, footwear design, accessories design, etc.
1. Apparel design
Apparel designers take care of clothing and costumes, they create and help produce men's, women's and children's apparel, including casual wear, suits, sportswear, evening wear, outerwear, maternity clothing, intimate apparel, etc.
2. Footwear design
Footwear is an important element in fashion design. Matching the wrong footwear can greatly downgrade the aesthetic value of a piece of design. A footwear designer is responsible for creating different types of footwear- athletic, casual, formal, etc. that combines comfort, form and function to match the clothing's design.
3. Accessories design
Accessories designers design and produce items such as handbags, suitcases, belts, scarves, hats, hosiery and eyewear to compliment a person's outfit. Like other individuals in the fashion industry, an accessory designer must be very knowledgeable about past, current and future fashion trends.
How long do you study Fashion Design?
The duration of studying fashion design course depends on which fashion design you are studying in and the level of study of your course.
For most fashion design schools, a fashion design bachelor degree will usually take 3-4 years to complete while a diploma course will take 1-3 years to complete. If you would like to further pursue your career, you can continue your study in Master degree for another 1-2 years.
Why should you study Fashion Design?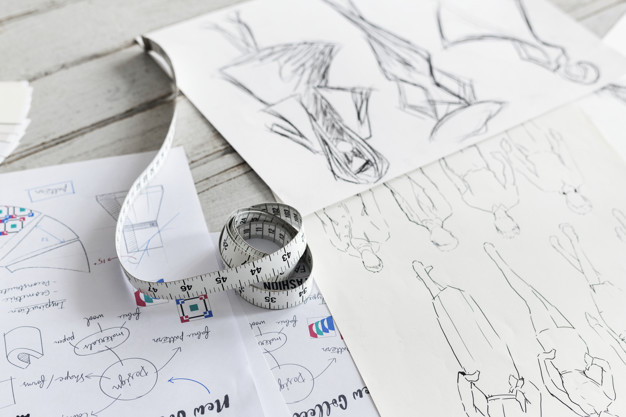 1. Stay close to the trend
In this fast-changing world, nothing stays forever and be there for long. Being in the fashion industry, you will stay close to the trend and get the newest update about the current trend in the fashion industry. Not only that, but you will also have a sneak peek on the trend of the next fashion season ahead of other people who are not in the industry.
2. Absolute satisfaction
Being a fashion designer, you will get to see other people wearing your creation and this surely will bring massive satisfaction and pride. Not only that, your satisfaction will be augmented when you receive compliments for your design and product.
3. Everything is pretty
For those people who appreciate the aesthetic values of products, fashion design is what you want to study. Being in this field, you will be constantly exposed to pretty elements and ideas, and be one of the people who contribute to the aesthetic design.
What skills do you need for Fashion Design?
1. Creativity
Creativity is the most important quality of a designer, including a Fashion Designer. A fashion designer with creativity will be able to produce a design idea which is unique, functional and stylish which makes the designer and his/her design stand out in this competitive industry.
2. Detail Orientation
There are sayings like "the devil is in the detail" and "God is in the details", that shows that detail is very important. What makes a design unique and stand out among other design is often its detail. A small detail like a slight difference in colour can greatly affect the feel and vibe of a design.
3. Computer Skills
Computer software is an important tool for a fashion designer when they're designing as there are some details in design which are difficult to be drawn using freehand. Therefore, the ability to use computer software in designing would be extremely beneficial to designers design and production.
What career can you have with a Fashion Design education?
Here are some of the popular career options you can pursue with a Fashion Design education:
Assistant Fashion Designer
Fashion Designer
Fashion Stylist
Fashion Merchandiser
Fashion Journalist
Fashion Editor
Fashion Model
Visual Merchandiser
Textile Designer
What is the Expected Salary?
Fashion Design is a unique field of study. Below are the expected salaries of some popular jobs in this industry.
| | | | | |
| --- | --- | --- | --- | --- |
| | Assistant Fashion Designer | Fashion Designer | Fashion Stylist | Fashion Merchandising |
| Entry-level | US$ 40,000 | US$ 46,000 | US$ 44,000 | US$ 38,000 |
| Mid-career | US$ 48,000 | US$ 69,000 | US$ 56,000 | US$ 45,000 |
| Experienced | US$ 68,000 | US$ 82,000 | US$ 77,000 | US$ 60,000 |
| Late Career | US$ 76,000 | US$ 92,000 | US$ 98,000 | US$ 70,000 |
(Source: Payscale)
Top 10 Fashion Design Schools
If you noticed based on the list below, the best fashion design schools are located in big countries all over the world, particularly the United States, United Kingdom, Belgium, France, Italy and Japan.
Here is the list of Top 10 Fashion Design schools around the world which are well-reputed in the Fashion Design field:
1. Fashion Institute of Technology, New York
Founded in 1944, Fashion Institute of Technology is a public college located in Manhattan, New York and it is a part of the State University of New York. The college establishes its stream in art, business, design, mass communication, and technology with the fashion industry.
2. Parsons School of Design, New York
Parsons School of Design is a private art and design institution located in Lower Manhattan, New York. Founded in 1896, the founder established this college to search for individuals with artistic expression. It was the first college in the country offer courses in fashion design, advertising, graphic design and interior design.
3. London College of Fashion, London
The London College of Fashion is a part of the University of the Arts, London. The programmes offered are available for undergraduate and postgraduate students. Other short courses, study abroad opportunities, fashion training, makeup and other activities that are a part of the fashion industry are also provided.
4. Central Saint Martin, London
Central Saint Martin is an art school in London, England that offers full-time programmes at the foundation, undergraduate and postgraduate levels. Its parent institution is the University of the Arts London. Besides the general academic programmes, the college also provides various short and summer courses.
5. Royal Academy of Fine Arts (Antwerp), Belgium
Located in Antwerp, Belgium, Royal Academy of Fine Arts offers a wide range of art courses for talented students to enrol. Both undergraduate and postgraduate programmes in applied fine arts and design are available. The school is known for providing the best digital innovation, business and marketing for its niche.
6. Royal College of Art (RCA), London
Royal College of Art has attracted many students from over 60 countries to pursue their degrees in art and design. It is a public research university that fully focuses on postgraduate courses. In the recent QS World University Rankings in the Art and Design course, RCA has ranked first for five consecutive years.
7. ESMOD International, Paris
The École supérieure des arts et techniques de la mode, or ESMOD for short, is a private fashion school in Paris. It has experience of more than 170 years in business and the art of creation. Since then, many trained and skilful designers are among those who are ESMOD alumni. Besides Paris, there are also other branches countries like Russia, the United Arab Emirates and Japan.
8. Istituto Marangoni, Italy
Istituto Marangoni is a private fashion and design school in Italy based in Milan. The school was initially established to train pattern makers and seamstresses, but between the 1970s and 1980s, it decided to focus towards fashion design, product development and marketing.
9. Bunka Fashion College, Japan
Location in the city of Fashion, Tokyo, Bunka Fashion College is a vocational school that specialises in fashion design and other related disciplines. It is the first dress-making school in Japan that was founded in 1919. It has produced over 300,000 alumni and has served a significant role is the Japanese fashion education for a century and counting.
10. Ecole de la Chambre Syndicale de la Couture Parisienne, Paris
Ecole de la Chambre Syndicale de la Couture Parisienne is a fashion design school in France that trains apprentices exclusive education to prepare them for the industry. It provides programmes from vocational training to postgraduate level in practical, theoretical and management skills.