China is fast becoming a major competitor in the world, for its industries, economy and higher education.
The country, too, can be a cheap alternative to a world-class higher education as compared to countries such as the United States, Australia among others.
Read our guide below to find out if studying in China is for you.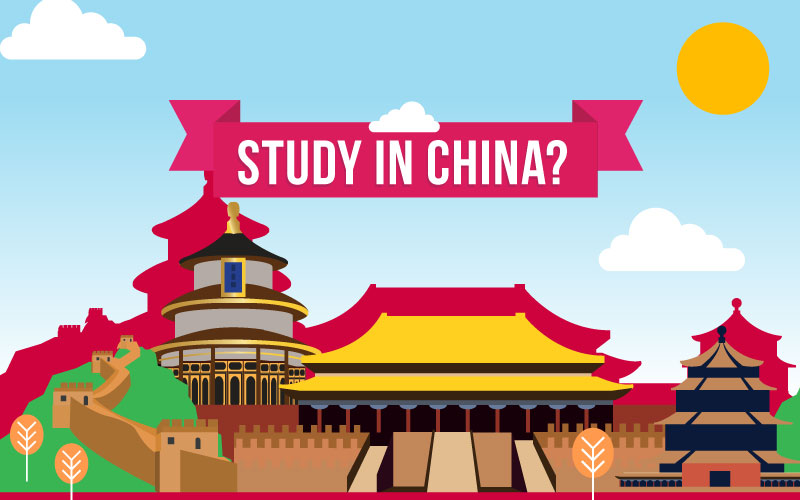 A Quick Intro to China
Why Study in China?
Higher Education in China
Higher Education Institutions in China
Pathway to Studying in China
Top Institutions in China
After Study Opportunities in China
Applying to Study in China
Language Requirements
Visa Requirements
Tuition Fees
Universities in China Grouped by Subject
A Quick Intro to China
China has been the fastest growing economy in the world for the last few decades.
From sophisticated urban cities to rural cities close to nature, you will be spoiled by these beautiful landscapes of hills, lakes, and wide-open fields.
Chinese culture too is, essentially, fascinating to immerse oneself in – which would automatically be part of your student life if you choose to study in China.
Why Study in China?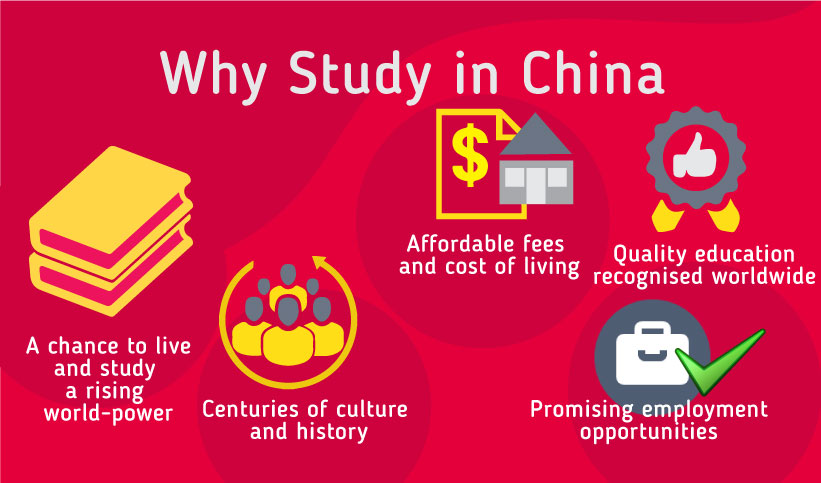 There are different reasons why you should study in China.
One of it is you will have the opportunity to experience a mix of ancient and modern civilization within a country that has many different cultures and dialects.
China also exudes both tradition and modernity, a rich history extending further than 5,000 years, its seven UNESCO world heritage sites such as the Forbidden City, and its booming cities, like Shanghai, are some of the reasons why you should go.
As the second largest economy in the world, just one step down from the United States, only would working there be immensely rewarding, but studying in China would be so as well.
That is why many students worldwide choose to study in China for a chance to meet people from all over the world and expand their network!
Companies and leaders from various industries come to this part of the country and do their business in China, so it's possible to meet one or them while you are in the country.
Also, China is very affordable; the cost of living and the tuition fees are much lower on an average, compared to other continents.
Plus, the Chinese government is investing immensely in education to get more international recognition. Thus, you will get a chance to get the top education at a price you can afford.
Higher Education in China
China has an over 2,000 higher education institutions all over the country.
The country has been wooing international students to come and study.
In 2018 there were almost 500,000 international students, and this is growing year by year.
The Chinese government plays a vital role in improving the education sector in the country. Over the years it has been very active and encouraging in the development of the country's higher education standing.
The government has poured large amounts of funding to certain universities to help improve facilities, build research centers, attract world-renowned scholars and faculties, among other developments.
The universities in China are either state-owned or non-government (private) institutions:
Regular (government/public) universities
Institutions run by the central ministries and agencies, as well as local authorities.
These "traditional" and "typical" institutions help students prepare for examinations for a recognised degree under the government, as well as training to improve their skills that are beneficial to the Chinese economy
Independent universities
Also known as duli xueyuan
These institutions do not receive any government funding; they work with other well-known universities, private institutions, and the business sector. Their tuition fee is more expensive.
Vocational institutions
Offer all levels of degrees (Bachelor, Master and PhD), but use both the theoretical framework and practical skills (applied science) during studies.
Adult Institutions
Includes the institutions focusing on:
Administrative Colleges: adult middle school and higher education programmes for government officers
Correspondence Departments and Attached Evening Colleges: part-time adult higher education programmes through correspondence and attached evening colleges
Employees' Colleges: offers credentials to staff/ or workers
Independent Self-Study Examinations: the only form of higher education in China with an entirely open admissions policy
Radio and Television Universities: multimedia courses through radio, television, print, audio-visual materials and computer networks on a nationwide basis
Spare-time Universities: sub-degree level programmes undertaken in the students' spare time
Private Higher Education Institutions
These institutions are not administered by local, state, or national government; source of income depends on students
While more expensive than public schools, students can get scholarship from these institutions
There are currently 300 private HEIs in China
B. Pathway to Studying in China
The length of your study depends on the path you wish to take. Here's a basic duration of study in China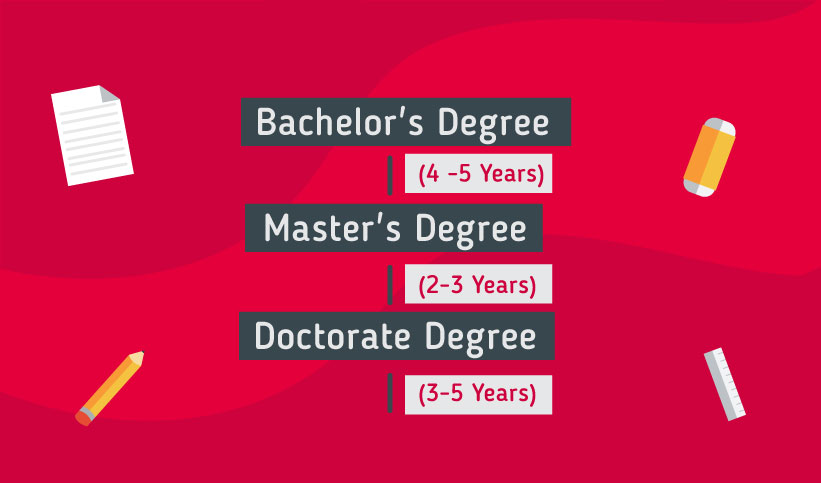 C. Top universities in China
Several universities in China are present in the rankings of top 300 universities in the world, and in particular, these universities rank highly in Asia and BRIC's top rankings as well.
The top 5 universities in China as per QS World Ranking 2021 are as follows.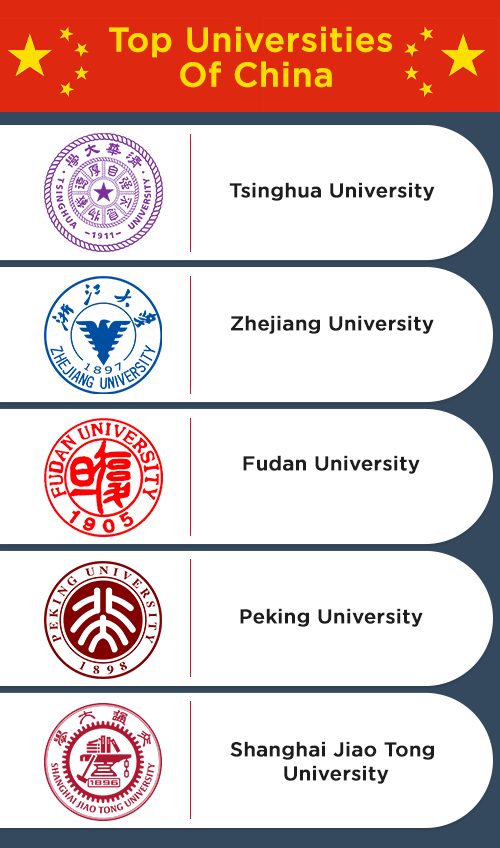 D. After Study Opportunities in China
When you decide to stay longer in the country because you want to continue your study, you can go to the embassy and apply for an extension of your study visa. Most of the time it will not be a problem, as long as you have a university declaration as proof.
But if you want to stay longer because you got a job offered, different rules apply. In this case, you need to apply for a work visa called Visa Z, and both the employer and you need to meet the conditions.
Check out the official Chinese government website for more information and the requirements for applying for a work visa, or any other visa that is not a student visa.
Applying to Study in China
A. Language Requirements
Many courses in China are taught in Mandarin instead of English--hence, if you are planning on pursuing a course in Mandarin, you are required to present a certificate of a passing grade in the Hanyu Shuiping Kaoshi (HSK) exam, between levels 3 to 8.
This certificate is usually obtained through a one to two-year intensive course learning Mandarin.
This would enable you not only to understand lectures but also communicate with the Chinese population in general for your comfort and convenience.
However, as most students would usually choose, if you plan on pursuing your degree in the English language you may not be required to learn Mandarin, although you may be asked to take and show proof of having passed an English language test, usually the IELTS or TOEFL.
But this differs per university; some are more flexible than others with regards to English sufficiency.
B. Visa Requirements
For China, once students receive their offer letter from the university of choice, a decision must be made of the type of visa the student is required to apply for.
Student visas in China are divided into two: X1 and X2. X1 is for students who are planning on studying in China for more than six months, while X2 is for those who will be studying in the country for less than six months.
After that, students must go to the China consulate or embassy in their country to apply for the visa, along with the following documents:
Acceptance letter from University
Visa application form (JW201 or JW202)
Physical Examination Record
Original passport
One recent passport sized photograph
After the application and approval of your visa, you may leave for your studies in China. Once arrived, international students are required to pay a visit to the Health quarantine bureau to confirm their Physical Examination Record.
If a student is found to have failed it, they would be asked to go through it again in China.
Tuition Fees
For quality education, China's tuition fees are remarkably low, making the country excessively affordable for those seeking a good abroad education.
While annual tuition fees can amount to USD 15,000 in several countries around the world, in China students can obtain a degree from a top 50 university paying a small annual fee of USD 1,500.
| Study Level | Tuition Fee, Per Year, in CNY | Tuition Fee, Per Year, in USD |
| --- | --- | --- |
| Bachelor's Degree | Between 13,500 - 28,000 | 3,000 - 5,000 |
| Master's Degree | Between 21,000 - 35,000 | 3,000 - 5,000 |
| Doctorate's Degree | Between 21,000 - 35,000 | 3,000 - 5,000 |
Universities in China Grouped by Subject



More about studying in China, below: