Do you want to study in Europe? Bulgaria would be an awesome choice! This country is one of Europe's oldest countries. Check out this guide to find out very useful information about the country before you start off with the preparations.
A Quick Intro to Bulgaria
Why Study in Bulgaria?
Higher Education in Bulgaria
Higher Education Institutions in Bulgaria
Pathway to Studying in Bulgaria
Top Institutions in Bulgaria
After Study Opportunities in Bulgaria
Applying to Study in Bulgaria
Language Requirements
Visa Requirements
Tuition Fees
A Quick Intro to Bulgaria

Bulgaria is bordered by Serbia, North Macedonia, Romania, Greece, Turkey, and the Black Sea. Sofia is Bulgaria's capital city, and its population is about 1.2 million. Bulgaria has a fascinating history. In 1946, they became under the influence of the USSR on political and economic grounds. They were declared as a republic whereby the Bulgarian Communist Party came to power.
Students love to study in Bulgaria as there are a lot of things to do! The beaches and resorts there are breathtaking, they are also known for their mountains where you can snow sports!
There are four cities you must visit when you go to Bulgaria. These include Sofia, Plovdiv, Veliko Tarnovo, and Blagoevgrad. All these cities are very historic, and some of them are even older than Rome and Athens!
Why Study in Bulgaria?

Located on the Balkan Peninsula, Bulgaria is fast becoming a destination of choice for international students, especially from its neighbors such as Greece and Turkey, even as far as Germany, Nigeria, and India. If you are asking why, well there are good reasons why they chose to study in Bulgaria.
Living in Bulgaria is far cheaper than in other European countries in the same region. This means you can enjoy much of your student life doing other things you might enjoy, like traveling, eating out, and socialising without breaking the bank. Plus, you get to do these things in a safe, conducive environment – perfect for those who are living away from their home like you.
Further, universities in Bulgaria also offer affordable tuition fees. Pay a fraction of the price you pay for more expensive higher education institutions, with the same well-developed education system and world-class facilities for research. And once you graduate, you are sure to have a degree that is recognised by employers worldwide.
Higher Education in Bulgaria
Studying in Bulgaria is a must as it is a country with big opportunities despite its small size. This small country is filled with young minds who are creative and innovative.
Other than that, the universities in Bulgaria are constantly stepping up their game to improve its facilities and service with the hope of attracting more international students.
Here are a few relevant information to guide you about Higher Education in Bulgaria:
A. Higher Education Institutions in Bulgaria
Over the years, Bulgaria has been attracting international students from different parts of the world. Their world-class education is one of their drawing factors, as well as the sights and sounds waiting for those who yearn for a life full of adventure.
Bulgaria's capital and largest city, Sophia, is a historically well-preserved city, home of the biggest universities in Bulgaria including Sofia University St. Kliment Ohridski. Once favored by Emperor Constantine the Great, the city is a perfect combination of past and present.
Meanwhile, Plovdiv University is located in the country's second-largest city – Plovdiv. Also as well-preserved as Sofia, enjoy open-air museums and Roman theatres during your free time.
Home of the American University in Bulgaria, the city of Blagoevgrad is situated at the foot of the Rila and Pirin Mountains, the highest and most beautiful ranges in Bulgaria. Though small, a lot of students stay in this charming and vibrant city.
Universities in Bulgaria
There are at least 51 higher education institutions in Bulgaria and they can be divided into four categories: a university, a college, a specialised higher education school, and a self-contained college.
Universities
Colleges
Private Universities
Specialised Higher Education School

Provides training in a wide range of subjects

Offer bachelor's, master's and doctoral degrees

Contributes to science and culture through their research

May be a part of a university or a specialised higher school

Also referred to as an academy, is an option to follow a fulltime and specialised bachelor degree so that at the end you will receive a ´professional bachelor degree'

This is a good option for the students that are certain what to study, and what career to pursue

Equivalent as to a polytechnic university, meaning a specialised technical university
B. Pathway to Studying in Bulgaria
The length of your study depends on the path you wish to take. Here's a basic duration of study in Bulgaria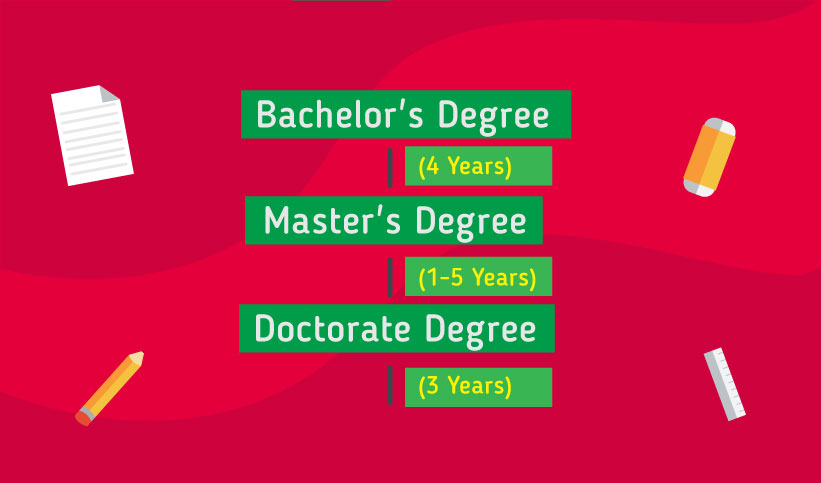 C. Top Institutions in Bulgaria
With a great country and amazing people also comes to great universities! The following is a top 10 list of the best universities in Bulgaria of 2021 according to UniversityGuru.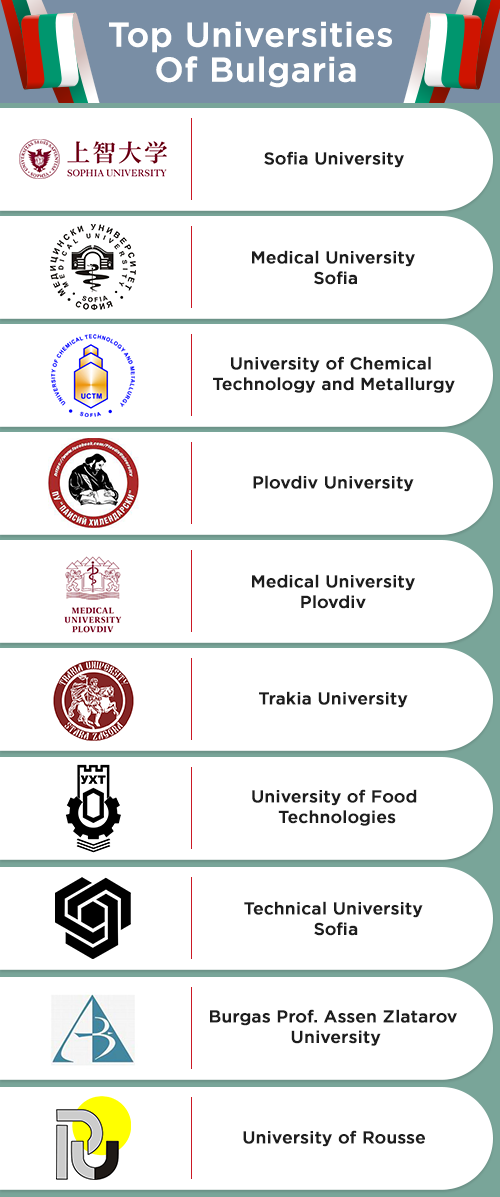 D. After Study Opportunities in Bulgaria
We can all imagine that after you finish your programme, you may want to stay and live in Bulgaria. Well, Bulgaria is very welcoming for international students deciding to stay in Bulgaria.
For EU-residents, you do not need to arrange anything remain in Bulgaria, just make sure you are registered at the city's town hall as an official resident. Meanwhile, for non-EU-residents, check out the Bulgarian government website on how to apply for a long-term visa!
How to Apply for Studies in Bulgaria

A. Language Requirements
Most subjects are taught in Bulgarian, but there are quite a few programmes offered in foreign languages which are mainly English, French, and German. Either way, you need to prove you have sufficient knowledge of the language you decide to study in. If not, no worries! Almost every university in Bulgaria gives you the opportunity to teach you the languages mentioned above before entering a bachelor's programme.
B. Visa Requirements
Students who are not EU/EEA residents must apply for a Bulgarian Student Visa (D-type Visa) that is valid for three to six months. To apply for a student visa, you are obligated to meet the following requirements:
Photocopy of a passport (that is valid for at least a year)

Acceptance letter from the University
Medical insurance
Colored photo ID
Ticket booking confirmation
Prove that tuition fee has been paid
Tuition Fees
Tuition fees can vary depending on the university, course and language. Did you know studying in the Bulgarian language is cheaper than in English? Here's of breakdown on the expected fees when you decide to study in Bulgaria
| Study Level | Tuition Fee, Per Year, in EUR | Tuition Fee, Per Year, in USD |
| --- | --- | --- |
| Bachelor's Degree | Between 2,900 - 3,900 | 14,500 - 48,800 |
| Master's Degree | Between 3,000 - 3,900 | 15,800 - 51,400 |
| Doctorate's Degree | Between 4,000 - 8,000 | 4,800 - 20,000 |