Your Guide to Paying PTPTN Through Direct Debit Method
By EasyUni Staff | Last modified 05 Feb 2020
Share this page with friends
Good news! You can now pay your PTPTN loan through online direct debit method.
Not only is it more convenient, but those who choose to use this method will also be entitled to 10% discount.
Read More: PTPTN Application is NOT that Complicated
"With the online direct debit, applications are approved faster, within three working days, and the borrower can opt to make payments through their banks," said PTPTN Chairman Shamsul Anuar Nasarah, adding that 17 banks are providing this service.
Here's a list of the banks: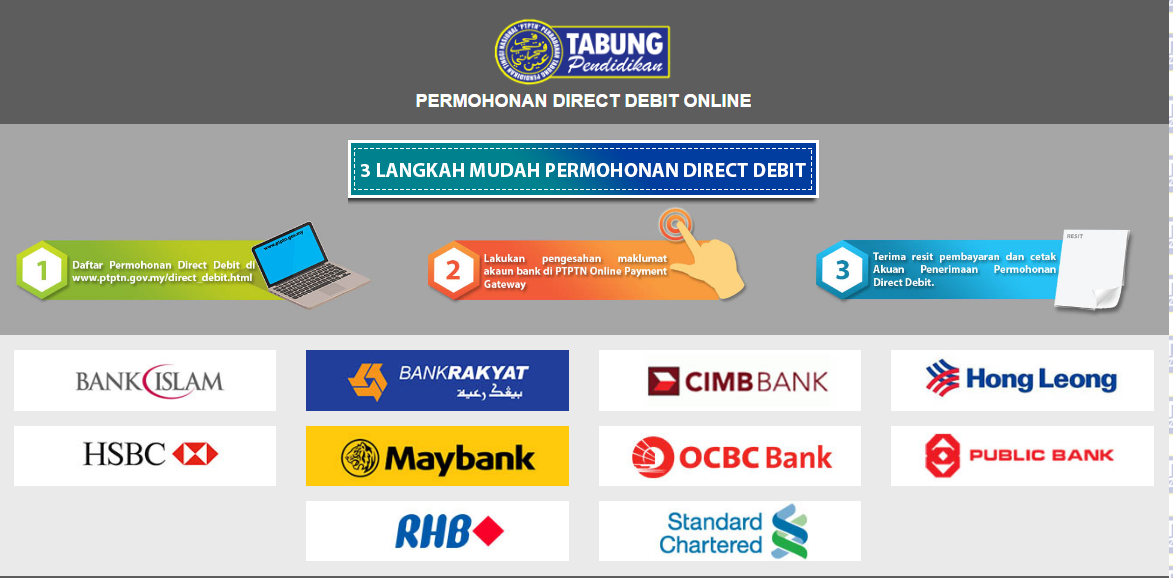 Local Banks:
Bank Islam
CIMB Bank
CIMB Islamic Bank
Bank Rakyat
Maybank
Maybank Islamic Bank
Public Bank
Public Islamic Bank
RHB Bank
RHB Islamic Bank
Hong Leong Bank
Hong Leong Islamic Bank
International Banks:
HSBC
OCBC Bank
OCBC Al - Amin
Standard Chartered
Standard Chartered Saadiq
Depositors or the National Education Savings Scheme (SSPN-i) can also use this system to increase their savings.
Read More: Seven Things you need to know about PTPTN
So how do you pay your PTPTN through the Direct Debit method? It's easy!
Visit the Direct Debit website to register
Verify your account information in PTPTN online payment gateway
Receive your receipt and print your "Akaun Penerimaan Permohonan Direct Debit"
Now, to conduct transactions through PTPTN Online Direct Debit, do the following:
Make sure you have a Current or Savings Account from the banks mentioned above and are registered for their electronic banking services.
You should also have a Loan or Deposits (Deposit SSPN-i) account at PTPTN.
For Loans, you need to know the type of your loan account: Islamic (Ujrah) or Conventional
Click Direct Debit Loan (Mohon Direct Debit Pinjaman) to review the types of loan accounts and make loan repayments.
Click Direct Debit SSPN-i (Mohon Direct Debit SSPN-i) to check the balance of savings and make an additional deposit.
A bank statement confirming a Successful transaction will be given within three (3) working days
Any questions or complaints can be forwarded to the PTPTN Customer Service Center or Complaint (iCare).
Now, you can never miss a payment, ever! So, make sure you pay your dues on time!
Read More: PTPTN Blacklist, Rising