What's Next After SPM? Explore Your Study Options Here
February 05, 2020
EasyUni Staff
The journey after SPM can be hard to decide, especially when you're drowned with different study options. It's actually up to you to decide which programme you prefer to study, but yes, of course, to come to a final decision requires a lot of research and other daunting processes.
Should you study locally or overseas after SPM? How do you make choices? What course should you take?
If you're still figuring the many options available for you to choose which study pathway you should take after SPM, we are here to help you in summarising everything you need to know.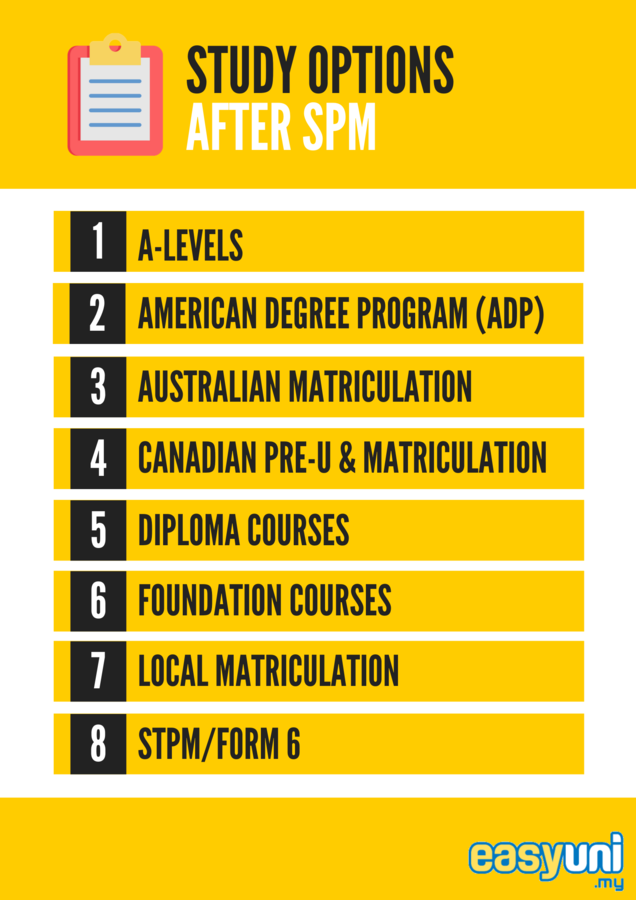 The SPM (O-Levels) results will be released a few months after the end of the examinations, allowing you to get a few months of rest or seek a part-time job. However, these few months are best spent planning your next step.
Some might even be eager to embark on their new path of knowledge before the SPM results are out, so it is vital to know the options available for you.
Also, check out the latest After SPM Guide for a complete and comprehensive guide.
---
1. Advanced-Level General Certificate of Education (A-Levels)
A-Levels is a pre-university programme in Malaysia that follows the UK education system. It is also known as GCE Advanced Level, it prepares students for a university degree through a comprehensive study of different subjects.
Traditionally introduced as a standard requirement for entry into universities in the United Kingdom, A-Levels is now recognised by many prestigious institutions outside the UK. Private colleges offer this course, where students are required to choose at least three subjects from 60 offered.
Only two examination boards are represented locally – University of Cambridge International Examinations and Edexcel Limited, where they are different in assessment methods and course syllabi. However, both are equally recognised by universities.
The courses offered in the institutions vary, therefore it is best to do your research on the various colleges and choose your A-Levels courses choice based on your desired course and personal learning ability.
A-Levels is suitable for those who want to keep their study options open and enjoy a flexible but challenging syllabus. Other than that, it is also good for those interested in pursuing studies overseas with English as the native language.
2. American Degree Program (ADP)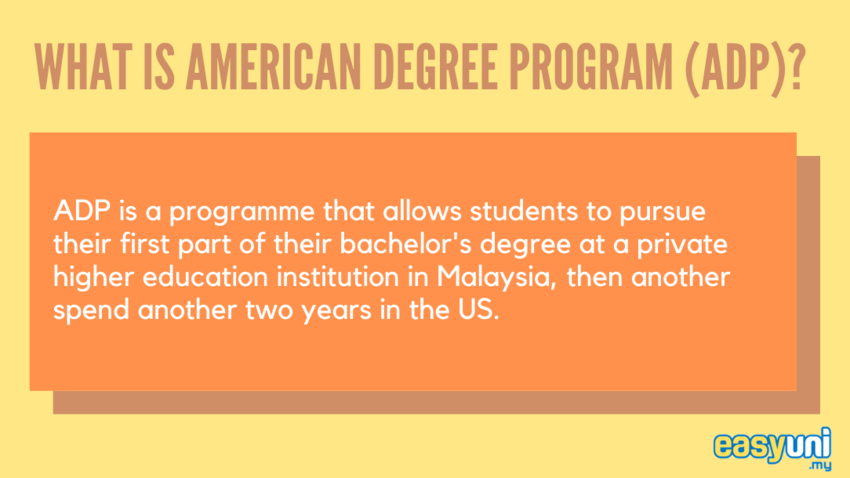 The American Degree Program (ADP) is designed to prepare students for undergraduate-level studies in American universities.
With ADP, students will be prepared academically to be equivalent to 12th-graders in American high schools. ADP takes about one to two years to complete.
The course structure revolves around a set of compulsory subjects (core) relevant to their future major and optional subjects (elective) which covers topics beyond their fields of study.
Final exams, tests, quizzes, assignments, presentations and mid-terms contribute to the students' final grades. Rather than being as academically challenging as other pre-u programmes, ADP stresses more on class participation, making it more beneficial for those seeking to improve their communication and people skills.
Before enrolling in an ADP programme, do your research on the subjects you want to take and speak to a university or college counsellor as not all ADP course credits are equally recognised by all universities.
Feel free to take up the ADP challenge if you have plans to further your studies in the United States or Canada, love class participation and group work, want to keep your study options open through broad-based education, or if you are independent and eager to decide your own future.
3. Australian Matriculation
Allowing students to acquire their pre-u qualification in a year or less, Australian matriculation programmes have topped the popularity chart for those who are seeking to pursue their higher education in Australia.
Australian matriculation programmes are widely recognised by universities in Australia, certain private universities in Malaysia and certain selected universities in the world.
The three Australian matriculation programmes available in Malaysia are Australian Matriculation (AUSMAT) leading to Western Australian Certificate of Education (WACE), New South Wales Higher School Certificate (NSW HSC) and South Australian Matriculation.
Although these three programmes are different in structure and syllabus, the weightings for grading comprise of 50% coursework and 50% external examination.
On top of that, Australian matriculation students will earn an Australian Tertiary Admission (ATAR) rank which is calculated based on the students' results after completing their courses.
Although ATAR is one of the criteria when selecting applicants for admission, it cannot guarantee one's admission into their university of choice.
Other than being suitable for those who are interested in pursuing their studies in Australia, Australian matriculation gives you variety in your studies while assessing you continuously throughout the course.
4. Canadian Pre-University & Matriculation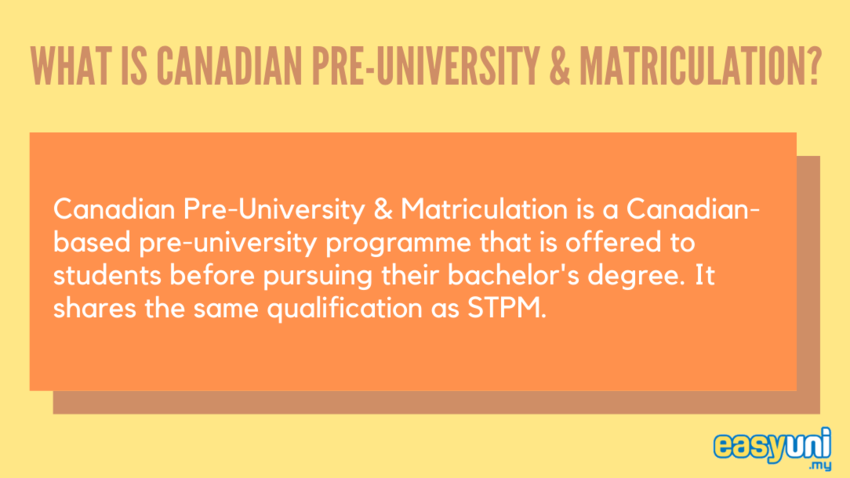 There are two Canadian pre-u programmes – International Canadian Pre-U (ICPU) and Canadian International Matriculation Programme (CIMP) – currently offered by local private colleges and universities, both of which leads to the Ontario Secondary School Diploma (OSSD) which is widely recognised and accepted by universities in Canada, United States and selected universities in United Kingdom, Singapore and others.
It takes about 1 to 1.5 years to finish this programme and students are generally required to pass six subjects and an English course. Students should also know that in this course, students are required to complete a minimum of 10 hours of community service before they can graduate.
Since coursework plays an important role in your assessment (70% of total marks), this programme is suitable for those who want extra-curricular activities to play a bigger part in your course. This is also an opportunity to improve your English to prepare yourself for undergraduate studies overseas.
5. Diploma Courses
A diploma course is suitable for those who have decided on an industry which requires specific skills or vocational training. Other than equipping yourself with industry-related skills and knowledge, you can also opt to continue your studies or enter the workforce early.
This course takes about two or three years to complete, depending on your subject. There are two types of diploma courses - skills and vocational diploma course, and diploma and advanced diploma for higher education, with the latter being able to prepare you for further studies later on when you pursue a bachelor's degree.
Skills and vocational diploma courses are suited for those who prefer to work with their hands. On the other hand, it is not as academically demanding as a full degree.
Also read: Should I Study a Diploma?
6. Foundation Courses
Foundation courses are regarded as assistance to students who move from SPM (O-Levels) to a specific bachelor's degree programme.
There are 'twinning' or transfer programmes with university partners, local or overseas, allowing you to complete your bachelor's degree programme in less time as some foundation programmes allow students to take subjects that can contribute towards fulfilling part of a degree's requirements.
For students who want to keep their study options open, there are broad-based foundation courses that are usually geared towards arts or science and it usually takes about a year to complete.
You should consider foundation courses if you already have an idea of your career path, want a head start or prefer assessments through tests, quizzes and assignments on top of a final exam.
Also read: Foundation and Diploma: What is the Difference?
7. Local Matriculation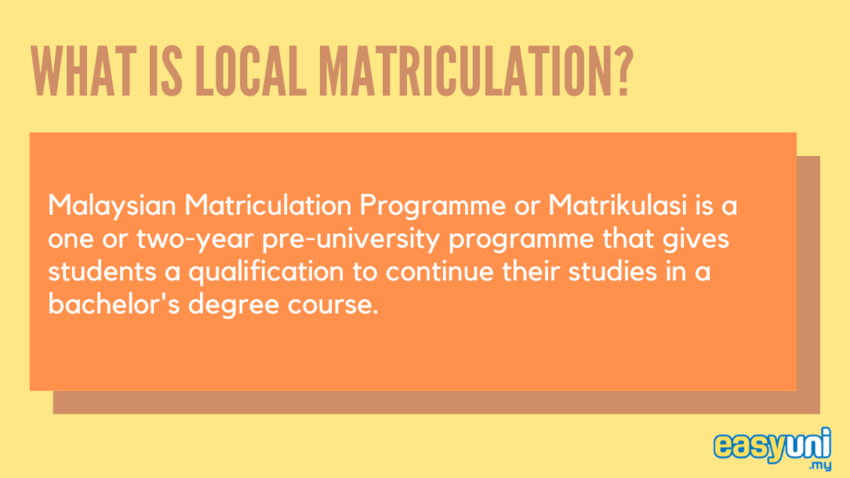 Local matriculation serves as a bridge for SPM students to enter degree programmes at local universities. Local matriculation is also recognised by some universities in New Zealand and the UK.
It is a one or two-year programme, determined by the matriculation department of the Ministry of Education and there are two stream selections available – Science or Accounting. Students are also required to adhere to a formal dress code.
Local matriculation is a match for those intending to gain entry into a local public university and prefer to be assessed through a grading system similar to that of a public university.
8. Sijil Tinggi Persekolahan Malaysia (STPM)/Form 6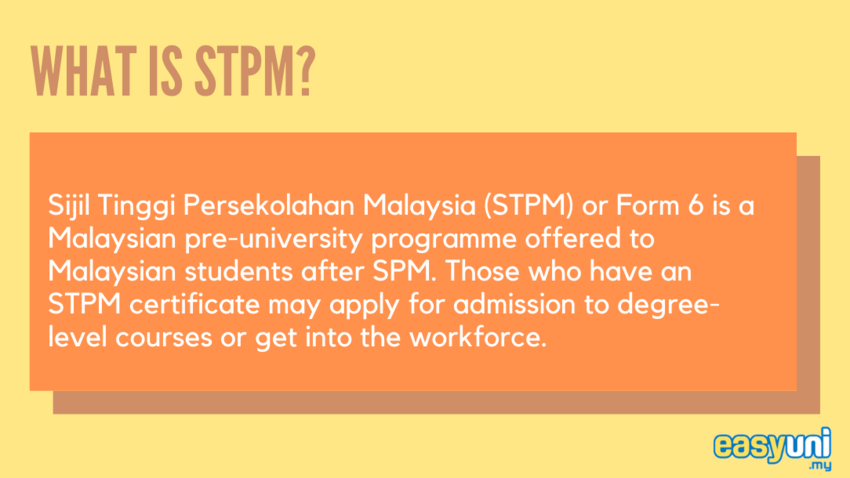 Students who want to stay longer in school can opt for STPM which is considered equivalent to the GCE A-Levels qualifi cation in the UK. It is accepted by the most reputable bachelor's degree programmes in universities all over the world. You can also register as a private candidate to take the STPM.
There are 23 subjects you can choose from, including the compulsory General Paper. Now, two forms of assessment will be combined in the STPM – school-based assessment (20-40% of the final score) and a centralised examination (60-80% of the final score).
Students will also be required to take the Malaysia University English Test (MUET) which is a prerequisite to enter public universities.
STPM is ideal for those who want an affordable globally recognised pre-u qualification.
Also read: Sky is the limit - Your options after SPM