Sureworks Education Fair: Guiding Students to Their Next Steps
By Nur Hafiza Abu Bakar | Last modified 17 Mar 2020
Share this page with friends
We have come to the peak season for high school leavers to prepare their further study plans and journey. As one of the largest education fair organisers, Sureworks never fails to attract students and parents to spend their day at the fair.
Sureworks, once again, held its long-running education for the first time this year in 2020. The 51st series of Sureworks education fair was held at the Mid Valley Exhibition Centre (MVEC) on two weekends, 7-8 and 14-15 March. This time around it took place in Kuala Lumpur and Johor Bahru. The fair was open to the public for free from 11 am to 7 pm.
Known as the provider of "One-Stop Education Fairs", Sureworks have assisted not only students but also parents, teachers, working adults, industry members and more who need queries related to higher education.
Many of the well-known local and international institutions took part in the fair and showcased the courses they offer to all students who came. The universities include Asia Pacific Institute of Technology (APU), Multimedia University (MMU), Monash University, Tunku Abdul Rahman University College (TARUC), SEGi, UniRazak and more.
Visitors were given a lot of options to choose and they could simply acquire information from the university representatives straightaway. There were also institutions that prepared special offers such as scholarships and fee waivers for visitors who stopped by at their booths. Another highlight of the fair includes career talks given by industry professionals. The fair was held in perfect timing for school leavers, especially SPM leavers who were looking forward to moving their education steps to the next level.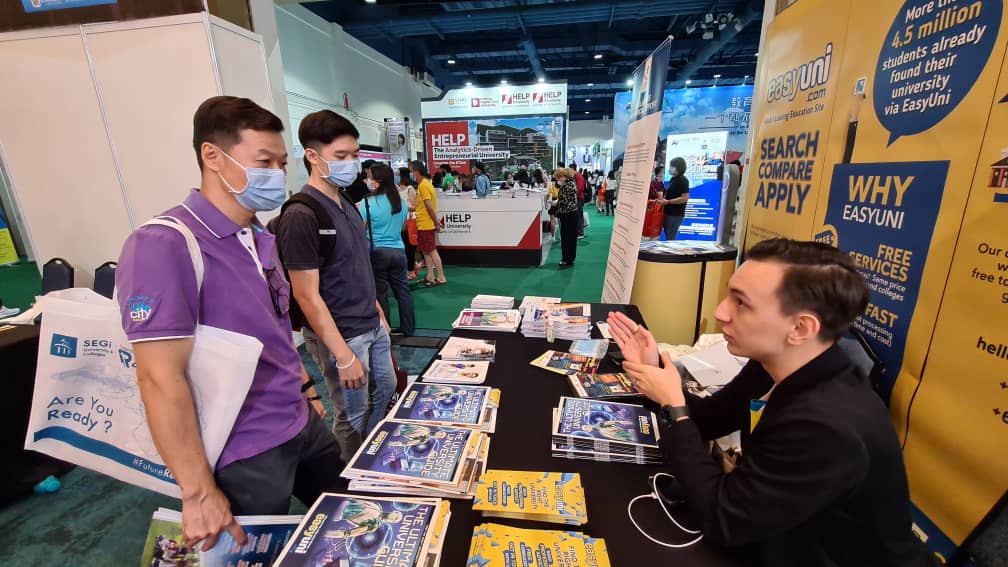 As one of the official media partners, EasyUni also partook as one of the exhibitors at the fair. The EasyUni team distributed free University Guidebooks, which stores valuable information and tips about courses, studying abroad and university life. Our very own counselling team also played a major role in attracting students to drop by at our booth. We served free consultation and advice for students who need one-to-one inquiries.
If you missed out on this series, don't worry. Sureworks organises three education fairs annually in March, August and December. Be sure to keep yourself updated on the latest updates of the fair!