Malaysia Pours RM13.89 Billion into Education Budget
By EasyUni Staff | Last modified 10 Dec 2017
Share this page with friends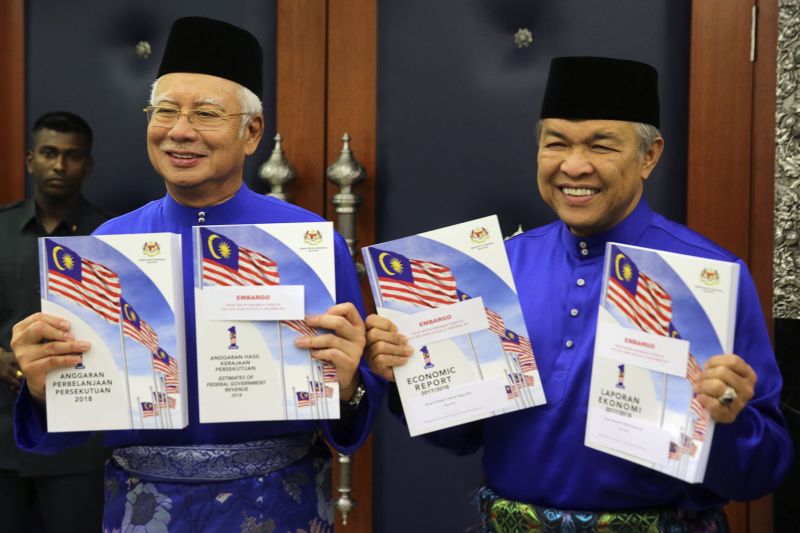 Picture courtesy to Yusof Mat Isa. Prime Minister Datuk Seri Najik Razak (left) and Deputy Prime Minister Datuk Seri Ahmad Zahid Hamidi posing for photographs after tabling Budget 2018 at Parliament in KL, October 27, 2017
In August 2017, Higher Education Minister Datuk Seri Idris Jusoh expressed his hope that there will be no further cuts to the higher education budget during 2018. He requested that Malaysian research universities should be given due attention as they represent a national image. As Malaysian research universities also collaborate with other local and international universities, he wanted to ensure the continued success and reputation of the higher education in the country.
With great news in October, a total of RM13.89 billion is to be distributed among the needs for Malaysian higher education. The budget is allocated to improve the future of Malaysia education with RM250 million allocated to advancement of the National Transformation 2050 (TN50) generation. It will be used to develop the areas of Science, Technology, Engineering and Mathematics (STEM) centres, and also improve Computer Science modules in the country, including Coding programmes.
The Higher Education Ministry describes the 2018 Education Budget as a 'Soaring Upwards' budget, with a 13.15 percent increase from RM12.28 billion last year to RM13.89 billion this year. The Deputy Higher Education Minister Datuk Dr Mary Yap Kain Ching says that it shows a positive sign in the development of Malaysian higher education.
Regarding the budget allocation for TN50 Generation, Prime Minister Datuk Seri Najib Razak explains that, "from the RM250 million, RM190 million is allocated for two thousand classes to be transformed into Smart Classrooms for 21st Century learning to increase creative and innovative learning." He also adds that "RM20 million will be channeled to the Cultural Economy Development Agency to improve the arts sector".
Furthermore, Najib also congratulated all Malaysian Research Universities for their improvements in the Top 300 QS World University Rankings 2017/2018. He encourages the country's mission to become a future regional hub for higher education as Malaysia has approximately 134,000 foreign students now.
For more information on other education budgeting including scholarships and education loans, do refer to the points below: